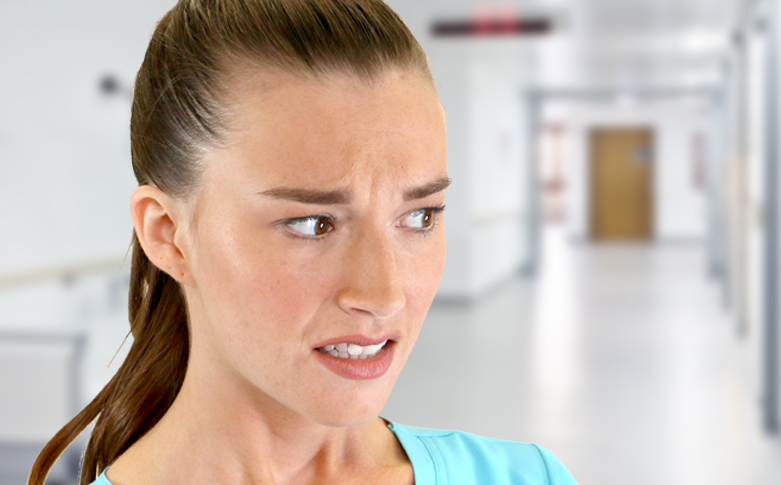 Jeff Richardson
What "ooks" you on the job? Agatha Lellis presented her take and, of course, and we wanted to find out what's the ookiest to you! So we asked our nurses at our Funny Nurses Facebook page and had some great answers.
Here are 10… let us know if you agree or have more to add!
1. "A remote control in the folds of the fat."
—Christine T.
2. "When you pull the socks off someone and it's like a blizzard. Bonus points if you recently applied Chapstick. Seriously, gimme a GI bleed any day, just don't make me take the socks off a nursing home patient."
—Caitlin D.
3. "Ooky things would be a urinal beside a meal tray, a emesis basin full of sputum and Kleenex full of sputum everywhere."
—Kathy S.
4. "False teeth that haven't been cleaned in forever, then doing it for the poor neglected patient…I just can't take it, lol, but it needs to be done!"
—Sheydeen S.
5. "Thongs hanging out the rear end of fellow nurses!"
—Allyson L.
6. "Pulling off a sock and realizing a gangrenous toe came with it…"
—Terri M.
7. "The KFC chicken bones, boxes and soda cans, in ICU, strewn about the NPO patient's room, left behind by the patient's caring family. Talk about bacterial infection waiting to brew…"
—Dianne K.
8. "The local funeral home donating flowers to a nursing home…that's just not right!"
—Sally B.
9. "Visitors' children crawling all over the floors."
—Cheryl H.
10. "Specimen handling without gloves! You know who you are!"
—Elizabeth C.