Mugs—don't they just seem to multiply in your cupboard when you're not looking? But the funny thing is, no matter how many mugs you have, there always seems to be room for just one more. Especially because someone keeps stealing your favorite mug at work!
Whether you're browsing for the perfect cup for your coffee or looking for a gift for a nurse or a nursing student, here are 10 mugs that look great and will give you a chuckle while taking a sip of your drink.
1. 10 ways to tell you're a nurse
Medical shows fascinate and gross out the Average Joe. But not nurses. Why? Because we know how it really is! You'll love this mug that proudly lists 10 funny ways to spot a real nurse.
1. Family and friends call you to describe their injuries over the phone.
2. It's the end of your shift and you realize you haven't once gone to the bathroom.
3. You can't function until your caffeine intake is at a therapeutic level.
4. You can scare everyone around you with just one look.
5. You start to point out errors in medical shows.
6. You've informed your coworkers who can/cannot work on you if you collapse.
7. You finally learn that doctors are not all that!
8. You get more done by knowing someone in housekeeping than in administration.
9. You can't imagine wearing heels after a day on your feet.
10. You can smile and know you made a difference at least once in your week.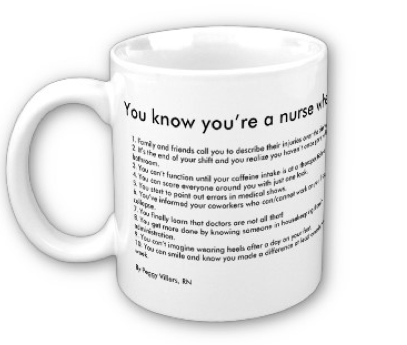 Next: You know you're an ICU nurse when…–>