4. Invent a brightly colored cocktail.
When was the last time you experimented in the kitchen? Maybe not since you were a kid? Going rogue with grandma's recipe—or even more simply, inventing an end-of-week aperitif—can be a fun, creative (and delicious!) way to unwind. We suggest you raid your cupboards, then come up with a relaxing, resort-sounding name for your invention, like Jacuzzi in My Shoesies or Desert Away-sis to help hit the right spot.
Here's one cocktail idea that infuses herbal tea with Grand Marnier and Blue Curacao to help you get inspired. Take a few sips of Wild Blueberry Delight and start mixologizing!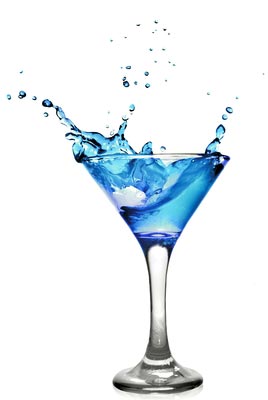 Wild Blueberry Delight
Ingredients:
2 cups water
6 Bigelow® Wild Blueberry Acai Herb Plus tea bags
1 cup Blue Curacao
¼ cup Grand Marnier
Ice
Place tea bags into measuring cup and add boiling water. Let steep for 10 minutes. Remove tea bags. Refrigerate until cold.
For one drink: Pour 2 ounces of the cooled tea, 1 ounce vodka, 1/4 cup Blue Curacao and ½ ounce Grand Marnier into a shaker filled with ice. Shake and strain into serving glass.
For a hint of citrus in this delightful drink, try this flavor combination:
3 Lemon Ginger Herb Plus tea bags and
3 Wild Blueberry Acai Herb Plus tea bags
Yield: Serves 4