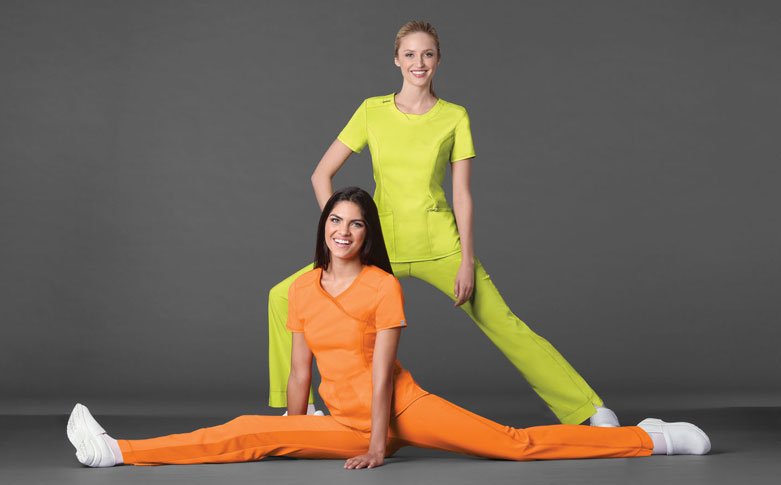 Image courtesy Infinity by Cherokee at http://www.cherokeeuniforms.com
Picture this: You wake up late one morning and rush to iron a collared shirt while trying to find a pair of shoes that matches your trousers.
You slip into the office just in the nick of time (whew!), but look down to find that the pants you thought were black when you pulled them on are actually navy, and look more than a little odd next to your black shoes. Groan!
Ok, we'll pull you out of this nightmare scenario! While it happens more than many would care to admit in traditional office settings, it's something most nurses never have to worry about, all thanks to scrubs.
They're comfy and cute, yes, but what else makes scrubs awesome? We took to our Facebook fans to see what they think the No.1 perk of wearing scrubs to work is. We bet you won't be surprised by their answers, but you may have even more benefits to add to the list!
10 perks of wearing scrubs to work
1. You never have to waste time planning and choosing work outfits! And you have more money to spend on trendy, everyday clothes!
—Katherine D.
2. Pockets!
—Amanda C.
3. Comfort, wide variety of colors, lots of pockets and hides my tummy after meals. 🙂
—Alicia Solomon
4. They always match…and even if they don't…they still do! Awesome!
—Paula B.
5. Don't have to iron. If I am too tired to take them out of the dryer (or forget about them), I can pull them out and wear them with no problem.
—Lizzie R.
6. We're allowed to wear "regular clothes" where I work, but I REFUSE! Why wear tight and uncomfortable jeans when I can wear loose and comfy scrubs?!
—Bethany M.
7. No buttons. And you don't have to buy new ones when your weight fluctuates…yay, drawstrings!
— Rochelle J.
8. So comfy and makes for easy shopping at the store. Just a grab and go sort of thing when you're scheduled to work, which I love. AND I don't have to try to walk in heels and look like an idiot! #lovetennisshoes
—Sondra P.
9. The number one perk of wearing scrubs to work is NOT having to worry about what to wear to work!
—Laura G.
10. Having people let me go ahead of them in line when I'm getting coffee before work. 🙂
— Mary K.
What other perks would you add to the list?
Sponsored by Cherokee Uniforms