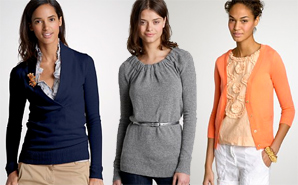 When you're not in your scrubs, you want to put together an outfit that makes you feel great. And I'm not talking about looking in your daughter's closet for something to wear.
Don't even think about borrowing her jeans! Tight skinny jeans should be left to the teenagers.
The trick to looking great in your clothes is feeling comfortable. I don't mean the kind of comfort that comes with wearing sweatpants and a T-shirt around the house—that look is for the gym. It doesn't take much to put on some pieces that you can wear at home or feel good in while running errands.
(1) If you do want to wear something that's in between a work outfit and your sweats, check out GapBody for an incredible black hoodie with a large front pocket and great black pants to match.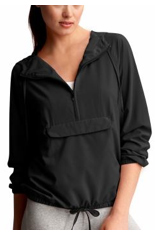 Gap Body Black Hoodie
This is not your average hoodie. You can turn it inside out and roll it up, and it morphs into a small knapsack. You can use the zipper in the sack to hold your ID and lipstick! Once the hoodie becomes a knapsack, you can either belt it around your waist or put the strap over your shoulder and carry it as a purse. So if you must wear some kind of sweats as you run errands, grab these fantastic pieces now before they sell out.
(2) The fall is a great time to add a few pieces to your wardrobe. If you're looking for a new pair of jeans, think about "the boyfriend" jeans. They literally look like you borrowed them from your boyfriend. They're great for a relaxed, carefree look that's stylish at the same time. Make sure the jeans aren't too baggy—the pants will start wearing you! Proportion is key. Roll up the pant legs and put on a pair of Converse, a tee and an oversized sweater cardigan for a hip, fun look. You can always add a scarf when you're out and about to complete the outfit.
Bootleg jeans are still in fashion and are always an excellent staple for any closet. Check out the Gap's new line of jeans—there's a style for every body type.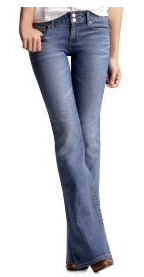 Gap's Bootcut Jeans
(3) Plaid shirts with ruffle plackets are back and add a feminine touch. Pair one with jeans and boots for a great look. A herringbone blazer complements this well. Don't be afraid to mix plaid and herringbone patterns—they will look good together. I like J. Crew's plaid shirts and jackets this season.

Plaid with Ruffle Placket Shirt From Banana Republic
(4) You might also like to try on a jean jacket from J. Crew. It's a nice look with a pair of jeans.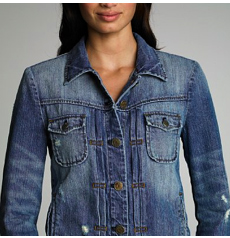 J.Crew's Denim Jacket
(5) I also like Autumn Cashmere sweaters for classic styles that you can wear for many seasons. They come in a vast array of colors. J.Crew also has great cashmere sweaters that come in lots of different colors. You can see a few of J. Crew's sweaters in this article's main image.
(6)Old Navy has inexpensive tees to layer under your sweaters.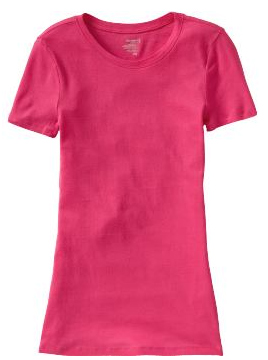 Old Navy Women's Tee

Old Navy Men's Tee
(7) Theory and Banana Republic have perfect white shirts that everyone should own. Choose a classic white shirt or one that's more feminine for a romantic look. Layer the shirt with a sweater or wear it with a blazer. A white shirt with a pair of bootleg jeans and boots always looks good.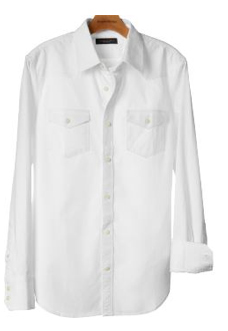 Banana Republic's Front Pocket Shirt For Men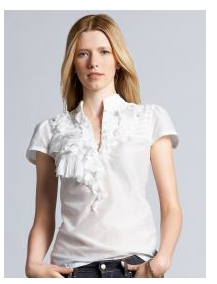 Banana Republic's Multi-Ruffle Shirt
(8) If you buy one pair of shoes this season, make it a pair of boots. When choosing the leather, think twice about getting suede if you live where it rains or snows a lot—the boots will be ruined after just a couple of outings. A nice chocolate brown or black goes with everything. When shopping for boots, wear the jeans that you'll be wearing with them. That way, you can be sure the length will be right. You can always take up the hem, but you certainly don't want them to be too short. Check out Piperlime.com for a great selection of boots and other fall shoes.

Banana Republic's Vivica Equestrian Flat Boot
(9) The next time you go to Target, check out the clothing. Anna Sui has designed a line of women's clothes just for the chain.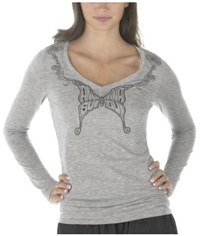 Cotton Butterfly Text Tee Shirt
(10) Or, try on a pair of Mossimo Engineer boots. Target has some great prices and styles for your new fall look.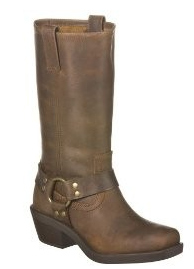 Mossimo's Engineer Boot at Target
Have fun exploring different shapes and styles. Look at different stores for similar styles at better prices. If you mix and match lower-end pieces with higher-end clothing, you'll get a more interesting look and feel good about the savings. Happy shopping!