10 things you can ditch after nursing school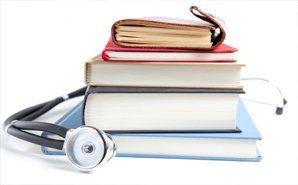 Cue "Pomp and Circumstance"—school's out! Hopefully, you have some good memories to take with you from your time in the nursing education system. But you'll probably be glad to say a permanent goodbye to at least a few of the items on this list.
10 things you can ditch after nursing school
1. Uniform
When we asked our readers about the top item they would be glad to get rid of after nursing school, the uniform was the winner, hands down. White uniforms, blue uniforms, pastel uniforms, stupid pinafores, idiotic hats, clunky white shoes—whatever students were forced to wear in school, they wanted no part of it after graduation. Quite a few confess that they participated in cathartic uniform-burning ceremonies to bid farewell to their nursing school days. Now, it's time to go shopping for trendy new scrubs featuring bright colors and eye-catching prints (if your new employer's dress code permits).
2. Care Plans
Yes, as an RN you'll likely still use these on a daily basis. But there is a HUGE difference between using a care plan created by someone else (or modifying a computerized template a little to suit a patient) and the laborious task of crafting dozens and dozens of these from scratch. This was by far the most hated homework assignment in nursing school.
3. Books
Once student nurses graduate, they start shedding their books like a tree drops leaves in the fall. They want to lighten their load of bulky textbooks, pocket reference books, study materials and everything having to do with cramming for tests. A few of these books may still come in handy if you go back for some higher nursing education, but most are ready for retirement.
4. Tote Bag
Along with saying adios to the books, student nurses get rid of their worn-out book bag. No longer will it hang from your shoulder, causing you to stoop like Quasimodo. It's time to pick up a trendy new bag to take to work—perhaps one that has your name and freshly earned title of RN or LVN on it!
5. Med Cards
This is the second most hated assignment nurses say they don't miss. It's like drilling with flashcards, only you have to make each one yourself. Some schools even make you write them out by hand—no computer templates for you!
6. Lab Values
Why memorize these when the lab values will always be printed on the patient's report? Besides, what if you end up working in a hospital where the lab values are different than those you learned? This is one of those tasks that nursing students find pointless once they start working in a real hospital. It's easier just to use the tools that are built into the system. The same goes for dosage calculations. Lots of nurses apparently leave this to the pharmacy "since it's their job." Or they use an app on their smartphone to double check. The days of doing calculations by hand seem so distant and foggy….
7. Student Badge and Title
Having a badge that proclaims loudly to the whole world that you are a mere nursing student is like having the big red "UNDER 21" printed across your driver's license. You want some respect when you graduate, and by golly, you've earned it. No more student nurse title for you—now you are the real deal!
8. Bad Instructors
Every nursing student can tell horror stories about an instructor who made their schooldays a living hell. While most instructors probably range from mediocre to excellent, it only takes one bad apple to spoil the educational experience. It's a huge relief when the final grades are in and that sadist no longer has any power over your future.
9. Extra Pounds
Where did that 10 to 20 pounds of excess adipose tissue come from? If hard intellectual work burned as many calories as physical exercise, you would graduate from nursing school looking like a marathon runner. Sadly, all that brain training gives you the munchies without keeping you toned and fit. Perhaps being on your feet all day at your nursing job will help melt away that excess weight!
10. Stress(?)
Whether it's just the big tests or every single assignment, a large percentage of nursing students feel anxiety in school. Whether your stress was high enough to require pharmaceutical intervention or not, you'll be glad that the NCLEX is behind you. Your new job will carry worries and challenges of its own. But hopefully the fact that you made it this far will give you courage and confidence that you will succeed.