As a nurse, there's probably no costume you could run into on Halloween that's worse than the stuff you see in real life on the job.
All those people who watch The Walking Dead would run screaming in horror if they spent a single shift in the average emergency room or got an up-close look at a bed sore.
However, there are still some Halloween costumes that will probably make even the most seasoned nurse a little queasy. We've compiled a dirty dozen here, some suggested by real-life nurses and others from the unending compendium of trashy medical-themed costumes online.
Slutty RNs to Infinity
With so many to choose from, we couldn't possibly pick just one. It's enormously annoying to work in a profession that gets so routinely fetishized. Only librarians have it worse—and at least they get to go around telling people to "shush!" at their job. Also, inquiring minds want to know: Why is it that all the "adult"-themed costumes only have enough fabric to cover a small child?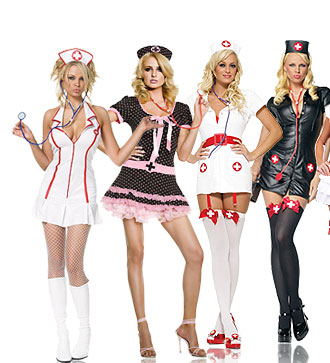 Slasher Surgeon
If you're an OR nurse, this is probably not a costume to wear where the doctors you work with can see it. Surgeons tend not to have much of a sense of humor at the best of times. Being compared to a crazed butcher wielding a bizarre assortment of what appear to be ancient farming implements won't make them feel warm and fuzzy!