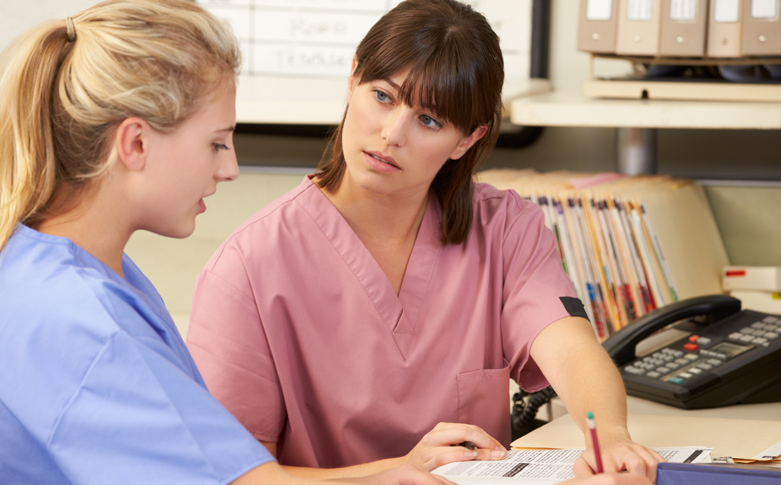 Shutterstock | Monkey Business Images
Would ya like some tips on surviving? Here's a quick list of 20 survival tips for the nursing newbie:
It's okay to be nervous and scared. That means you give a darn and want to do well. Trust me, you're not alone. Your classmates are just as freaked out. Some just hide it better than others.
There is strength in numbers. Meet and greet as many people as you can. You'll be surprised how much you all have in common.
Get used to not knowing something. After a decade of doing this job, you still won't know everything. But that's no excuse for not knowing something the second time around.
Get used to meeting strangers. Give a firm handshake, look them in the eye and say their name twice.
Be confident. You are going to meet A LOT of new people during your lifetime as a nurse.
Walk the halls of whatever facility your clinical rotation is located. Know your way around. You're going to need it.
Ask questions. Every. Single. Day.
Don't be afraid to admit you don't know the answer.
Study your rear off. Get organized. Your patients are depending on you.
Get used to being tired. The lack of sleep doesn't stop once you graduate.
Um. Peeing. Yeah. Get used to not doing that.
While we're at it. Eating. Uhh. Yeah. Get used to not doing that, too.
You are going to want to quit. Don't. You are going to want to cry. Let it out and move on.
Never cry in front of a physician. They're not worth it.
You are going to meet a lot of unpleasant folks. Don't ever let them sway you.
Befriend every single nursing aide (CNA) you meet. They are the backbone of this profession.
Never, ever, ever shy away from getting your hands dirty. You are not above any task.
Never forget what this first year feels like. Once you move forward in your career, help the next generation.
Never apologize for doing your job. Advocating for another human being is not easy.
Good grief, have some fun!