2012 fall styles to wear under your cap and coat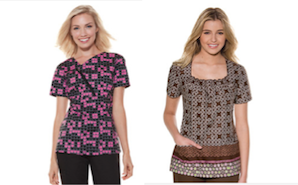 Cooler autumn weather makes us reach for a hat and jacket before we head out the door. This time of the year has us saying hello to layers in a big way. The downside is that the warm look is also kind of bulky. The upside is that you get to peel off the coat when you get to work and reveal a brand-new outfit that shows off your sense of style.
Scrubs fashion has evolved to the point where you can always find something that works with the season's trends. For example, there are plenty of prints that fit in with Pantone's "Fashion Color Report" for fall 2012. Here are our top picks for autumn scrubs styles based on half a dozen of these hot colors.
French Roast
This coffee brown hue is a must-have for fall paired with rich plum, harvest gold or turquoise. This smocked cotton top with a square neck makes narrow shoulders look broader and draws attention to a delicately carved collarbone. The gathering at the neckline provide a little extra room at the bosom, while the departure from a traditional V-neck keeps out any prying eyes.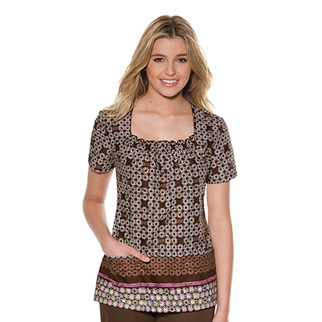 Ultramarine Green
Geometric shapes are in again this fall, and so is a deep blue-green. This cute top brings both concepts together. It's a very logically constructed garment with snaps on the patch pockets to help keep your gear from falling out. The stretch side panels wick moisture away so you don't sweat through your top under your jacket by the time you get to work. Buy it now, wear it all season, then bring it back out to enjoy again on St. Patrick's day next year!
Titanium
The pale dried-flower arrangement on this silvery grey top speaks of a summer that has finally come to an end. It's a wistful and soothing pattern that demands a simple canvas—which the mock-wrap top design of All Entwined provides. A brave nurse might match this top with white scrubs pants, but a wiser one might opt for an olive green that will hide stains better!
Pink Flambé
The lovable top pairs two of this season's favorite colors by featuring eye-popping pink hearts on a grey background. The asymmetrical neckline is modern without looking off-balance. You'll definitely want to match this top with one of the newer scrubs pant styles (not plain drawstring or cargo pants). Get a trouser-fit scrub pant in charcoal to dress it up, or a pair of black athletic or "yoga"-style scrubs pants to keep it casual.
Bright Chartreuse
This scrubs top combines two tints that fit this season's color palette—chartreuse and coffee brown—in a single print. The Shadow Dance is available in both a traditional V-neck and keyhole neckline with button detail. You can almost feel the interplay of light and shade on your skin when you wear it.
Olympian Blue
Do you feel the urge to speak with a British accent whenever you don a houndstooth garment? There's something frightfully well-bred about this classic print. These scrubs are just the right shade of deeply saturated blue for fall and winter. The black side panels are stretch fabric that will make you look slimmer—especially if you wear a lean, mean pair of black scrubs pants.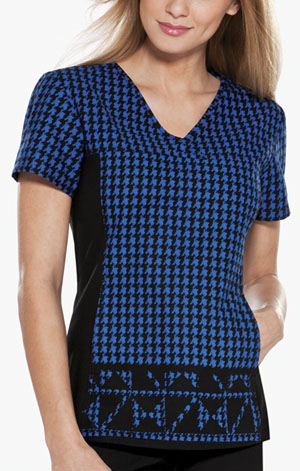 Sponsored by Cherokee Uniforms