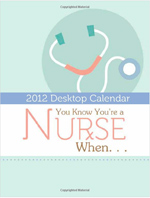 While you're shopping online for gifts this holiday season, don't forget to pick up a few 2012 nursing-themed calendars.
You can use one at home, bring one to work and pass out a few to coworkers. It's the ideal low-cost gift that people will actually use every day—and whenever they do, they will think of you. To make your shopping easier, we've sorted through a broad selection of nurse calendars to find the finest, funniest and most fanciful.
Daily Calendars for Nurses
There are plenty of daily desktop and box calendars to keep you feeling chipper every day of the year. Have you been in the nursing game too long? You'll be reminded of this every day with the "You Know You're a Nurse When…" calendar. This one always sparks a conversation at the nurse's station.
Other calendars offer a joke, quote or anecdote to help you start your day with either a laugh or a wry smile of recognition.
Then there are chortle-inducing medical bloopers that seem far-fetched but still have the ring of truth.
If you're more of a visual person, don't miss the medical cartoon calendar that will make you groan and giggle at the same time. As a new feature this year, some of these daily calendars can now be downloaded to your Kindle.
Next: Wall Calendars for Nurses →