Nurse Wall Calendars
This category features calendars that show the many sides of nursing.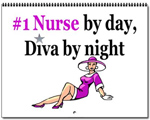 You spend all day tending to the needs of others—but when you take off your scrubs at the end of a shift, do you take time to pamper yourself? If so, you might be a "Nurse by day, Diva by night."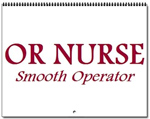 If you're an OR nurse, you can let everyone know you're a "smooth operator" who is a cut above the rest.
If you love retro images of nurses (even though you wouldn't want to wear one of those white caps every day), there are plenty of calendars to remind you of days gone by. You can find one with paintings from the last 100 years that cast nurses in roles ranging from defender of freedom to pinup girl.
Or you can choose a "vintage" black-and-white nurse photo calendar that has whimsical and lighthearted captions.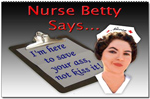 Perhaps you're in the mood to say what you really feel…something along the lines of "I'm here to save your ass, not kiss it!" If so, get an oversize Nurse Betty Says calendar (but hang it where the patients can't see it!).