Medical TV Show Calendars
There's nothing quite like coming home from your shift at a hospital and tuning in to a TV show set in yet another hospital. As a nurse, you always know what's realistic and what's sheer fantasy on these programs. But that doesn't mean you don't love them! For 2012, you can get your hands on a variety of wall calendars featuring these famous TV doctors and nurses.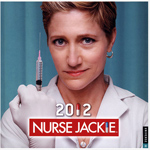 First, there's Nurse Jackie, Showtime's TV series about everyone's favorite lying, cheating, stealing, pill-popping nurse with a heart of gold.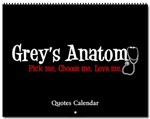 For diehard Grey's Anatomy fans who didn't quit the show after George got killed, there's a calendar of memorable quotes.
If you love to hate Dr. House, you can see him flaunting his new prison look here.
Finally, there are quotes from Scrubs if you're in the mood for some cheap humor.