Are you always on the hunt for phone apps that will make your life and/or job just a little bit easier? There are a lot of apps out there to sort through, but we're doing the work for you and looking for the best apps available for nurses! (Psst! Check out some of our past highlights here.)
Today, we're sharing three apps we've never spotlighted before, and we really think they could help to make your workday a little bit easier and keep you informed about the latest nursing news and information. If you've got a smartphone (or tablet), check these out and let us know what you think in the comments below!
LabGear ($4.99) is an advanced pocket tool for Medical Laboratory tests with peer reviewed content for all healthcare professionals. Here's what it includes:
Comprehensive library of medical lab tests with differential diagnosis, related symptoms
Fishbones schematics for Preset testing panels
Systems: Hematology (Blood Tests), Hormones, Cardiovascular, Pulmonary, Gastrointestinal, Nephrology, Tumor Markers, Pregnancy, Immunology
Chemistry Panels: Basic Metabolic Panel, Comprehensive Metabolic Panel, Complete blood Picture, Arterial Blood Gases, Liver Panel, Lipid Profile, Coagulation Profile, Diabetic Profile, Urinalysis
Nurses can now access the Journal of Clinical Oncology (JCO) and Journal of Oncology Practice (JOP) in one convenient location, optimized for viewing on the iPhone and iPad. The free apps allow you to:
View the current issue, plus recent back issues in text and PDF formats
Stay connected via user's institutional subscription. If your institution has a JOP subscription, you will be able to access content via any IP address registered with the account
View articles "off-campus" via the institutional proxy string access. Users can register their devices while on their institutional network and be able to access the content away from the institutional network
Browse from article to article with a convenient swipe of the finger, as if you were reading an eBook
Keep track of your reading via the Favorites and History links
View related links and articles not on the app conveniently via the in-app browser without leaving the app
E-mail articles or even just specific figures and tables to yourself or your colleagues
Save articles in PDF-format to your personal library on your device via apps like iBooks and Dropbox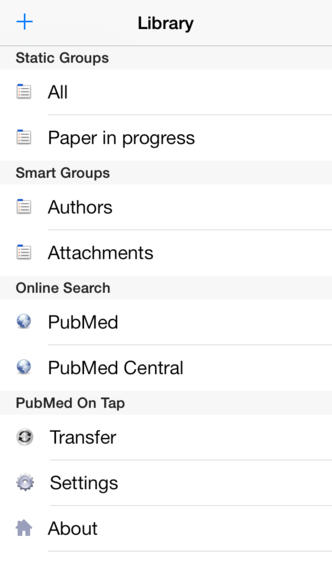 PubMed On Tap ($2.99) searches PubMed and PubMed Central to find, display and import reference information and PDFs of the full articles you have read and found useful. You can then search your personal reference library, organize your references in groups and email references from your device to yourself or coworkers in a form suitable for reading or importing into desktop reference management applications. It's a great way to keep the latest research at your fingertips!
Nurses, what's your favorite app to use to keep informed? Have you tried any of the ones we spotlighted?
Related:
3 great apps for nursing students
5 apps every ER nurse needs
11 iPhone apps every nurse should download