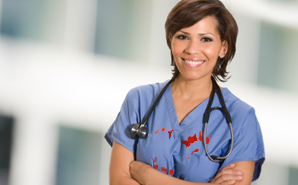 We all have days where beauty and style take a backseat to other important life issues. Maybe you don't have time to flatiron (or even brush) your hair or repaint your nails or dab on some concealer–we aren't here to judge!
Here are some fashion faux pas specific to nurses that probably shouldn't be crossed:
1. Beware the ankles
As Mom used to say, unless the floods are coming, your pants should end right at the ground. This is a matter of finding sizes that fit your inseam and making sure not to shrink your perfect fit in the wash. Scrubs are made in all lengths (thankfully), so there's no excuse for too-short ones!
2. Double check that V-neck
Even if it means standing in front of a mirror and leaning forward and sideways, make sure nothing is popping out or looking strange in your V-neck scrubs. This applies to both men and women! Throwing on a cami or T-shirt underneath is a simple fix.
3. Keep it a stain-free zone
For some of our wardrobe, a small stain wouldn't be a deal breaker for continued wear. But for scrubs? A stain that won't come out should signal retirement for that specific piece. Patient care requires hygienic and professional attire.
4. Nemo is great for pediatrics…not so much for the ER
There are tons of amazing scrubs options out there for nurses and if you're lucky enough to wear prints and patterns, you should, of course, have fun with the offerings. But it's still important to be mindful of what makes sense for your department.
5. Check your overall fit
The most obvious fashion faux pas is scrubs that don't fit. With the plethora of options out there, there's no excuse for baggy pants or too-tight tops. You can find any color, length, size and cut you want! The key to scrubs shopping is like anything else in fashion–you find something great that works well for your body shape and activity level, and then buy it in every color!
Hit the comments with your own fashion tips and don't be afraid to spill the beans on any mistakes you've made along the way. That's how funny stories get made!
In other style news: