Hunting for the perfect scrubs top for Thanksgiving? We have some great ideas to get you inspired! Remember, even if prefer to rock a solid color, you can always dress up your look with festive accessories, such as a pin, earrings or even a fun badge holder.
We love this fall-themed top which features—you got it!—a turkey and all the right colors to make a Thanksgiving statement. The Dickies V-neck top has a basket-weave neckline, bust darts, roomy patch pockets and side vents.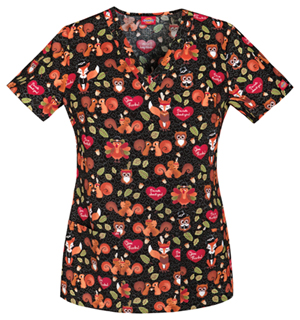 This dark chocolate top, new from Dickies, calls to mind the changing of the leaves and rich holiday hues. The Junior fit top features multi-needle contrast topstitching, front yoke seaming for a sporty look, a chest pocket with a reinforced pen slot, a cell phone pocket, two roomy patch pockets with an ID bungee loop, multi-sectional utility slots and side vents.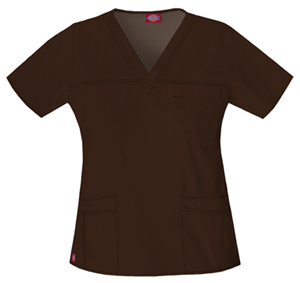 Not a fan of brown? Go with tan for a warm autumn look! HeartSoul's fresh take on the V-neck features asymmetrical front pockets, an innovative headphone cord system and roomy side vents. The signature heart-design tape at the back neck adds a pop of personality.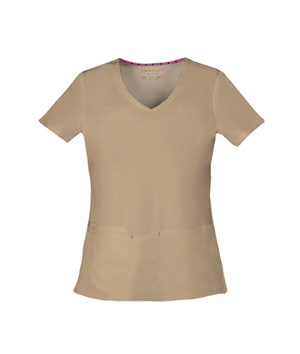 If you'd enjoy a pop of color, try a dark shade of a noncompeting holiday hue. We think this works well for Thanksgiving celebrations, especially if you break out a great pumpkin pin to go along with it! This Dickies Junior fit V-neck top features decorative logo eyelets at front princess strapping just above the vents, front patch pockets and a cell phone pocket that includes a self tab with a utility "D" ring completed by logo eyelets. Back princess seams add shape.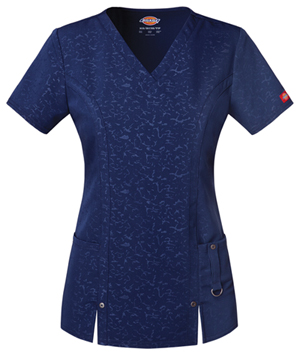 For a different holiday look, try this new "Whispering Willows" V-neck top from Cherokee. We're loving the festive red and tan leaves on the muted gray background! This sporty top features a front yoke, patch pockets and matching stretchy knit side panels for comfortability (perfect for your Thanksgiving dinner at the hospital, no?).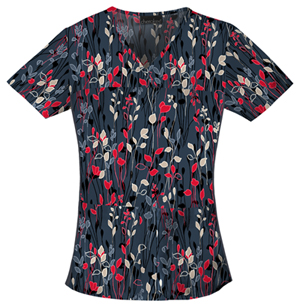 Nurses, which top is your favorite? What will you be wearing to celebrate Thanksgiving? Tell us in the comments below!
Sponsored by Cherokee Uniforms