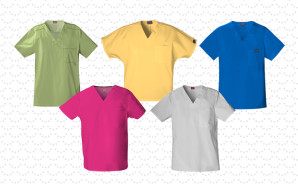 Summer is a great time to play around with your wardrobe, both at home and at work! You can wear bright colors you normally might not sport and are free from lab coats and hoodies, so your scrubs can stand alone in the spotlight. Take advantage of the season and update your scrubs wardrobe with some bright and summery scrubs tops–those trusty dark blues, greens and blacks will all be there waiting for you come September!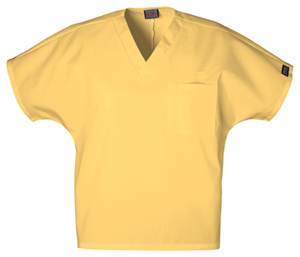 Unisex v-neck tunic: Before you fear that you'll look like Big Bird, take note that yellow is the color of the summer and actually looks better against more skin tones than you'd think. Why not try it out? This Cherokee top features dolman sleeve and a chest pocket with a pencil slot.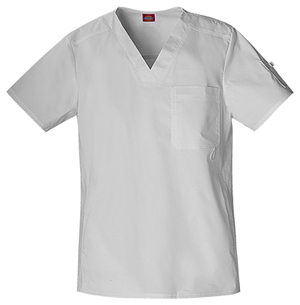 "Youtility" men's scrubs top: White looks great year-round, it's true, but it's especially popular in the warm summer months. Punch it up with light pants and you've got a rockin' summer look! This Dickies v-neck top features a front and back yoke, a chest pocket with an elastic bungee loop, one sleeve pocket with additional loops for holding pens, and multi-needle solid color stitching.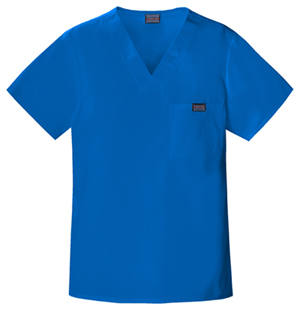 Men's v-neck top: If you just can't let go of blue, we understand–it looks great on everyone and is a popular scrubs color. But instead of reaching for your regular navy shade, go a bit brighter for summer with a royal hue! This Cherokee fitted men's top features a chest pocket with bartacked pencil slot, set-in sleeves, back yoke, side vents and double needle detailing.
Unisex v-neck to: We know, it's pink. Really pink. And we don't expect a lot of men to head straight for the hue. But it's a known fact that many guys look awesome in pink! So if you're brave enough to try it, might as well do it during the summer and go all in with a bright shade. The unisex V-neck top features a Dickies logo twill tape at the back neck, a front chest pocket with a bar tacked pencil slot and side vents.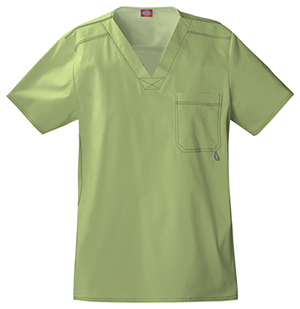 "Youtility" v-neck top: This Dickies scrubs top comes in a summery shade of green that we love! The men's fitted top features a chest pocket with an elastic bungee loop and one pocket on the left sleeve with additional self loops for holding pens. Also featured: set-in sleeves, back yoke, contrast multi-needle top stitching and side panels with side pockets.
Nurses, which top is your favorite? Do you wear different colors during the summer? Prefer printed scrubs tops? Fill us in below in the comments!
Sponsored by Cherokee Uniforms