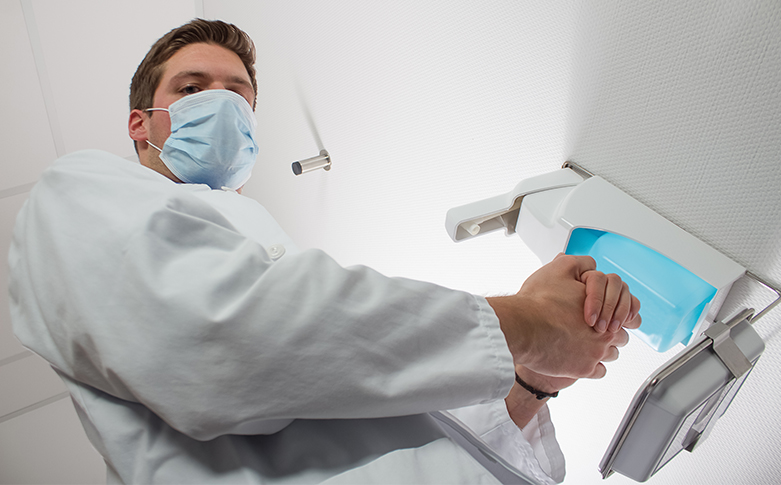 Shutterstock | Tobias Arhelger
As sanitary as nurses are, we still think there's a good chance that a handful of you are going to browse the following list of germ hot spots and think to yourself, "Uh-oh. I guess it has been kind of a while…."
But, hey, consider this roundup a friendly reminder that nobody's perfect.
1. Your cell phone
For nurses, hand-washing is an activity that is second only to breathing. That said, you still need to reserve a little disinfecting love for your cell phone, especially since it's likely to spend as much time in the hospital as you do.
So, why not make it a part of your daily routine? Simply running a moist microfiber cloth over the surface of your phone will help eliminate many types of common bacteria. Also handy in a pinch? Wireless wipes, which are cheap and noncorrosive and contain antibacterial ingredients.
2. Your ID badge
From the beginning to the end of your day, your ID badge is right there with you—coughs, sneezes and hugs notwithstanding. Though it be but little, it can be fierce, so remember to disinfect your badge with sanitizing wipes when you have a moment to spare.
3. Your steering wheel
Think about it: If you rely on a car for transportation, then your steering wheel is one of the very first surfaces you'll run your hands over once you step outside of the hospital…over and over again. And while your hands may be germ-free because you're the most thorough skin scrubber in the country, we still subscribe to the notion that safe is better than sorry.
Besides, chances are you're already stashing disinfecting wipes in your car—why not use them to give your steering wheel a quick rubdown once or twice a week?
4. Your light switches/doorknobs
Again, these are high-traffic surfaces that you'll have to make contact with before stepping into the 20-minute, post-shift shower you've grown nearly religious about. These are also surfaces that you share most often with your friends and family.
And since disinfecting spray, a towelette and a quick swipe are all that's needed to help prevent bacteria from spreading throughout your home, we'd say that's a pretty good trade-off.
5. Your kitchen sink
We know that you're exceptionally busy men and women—but nurses have gotta eat, too. Which is why dishes and/or remnants of your culinary escapades can, on occasion, overstay their welcome in your kitchen sink.
The bad (and slightly icky) news? Studies show that your kitchen sink can play host to more bacteria than a household toilet or garbage can. So, if your post-work state of mind is something along the lines of "I'll take care of it in the morning," then you're really going to want to disinfect that kitchen sink regularly. Like, twice a week regularly. But don't stress, it's easy enough—just a spray-bottle containing a tablespoon of bleach mixed with a quart of water is enough to do the trick.
Nurses, what are we missing? Lend us an uber-sanitary hand by giving us a heads-up in the comments section below!