5 tips for coping with PCOS as a nurse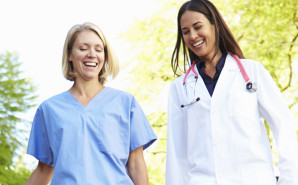 Coping with polycystic ovarian syndrome (PCOS) can be difficult, especially for nurses.
You work long hours, you often miss out on regular sleep and, let's be honest, you may not always grab the healthiest meals to eat when you're finally off duty (kale salad just doesn't sound that thrilling at 7 a.m., right?).
Having PCOS can make it difficult for nurses to lead healthy lives. However, it shouldn't make it impossible. Your health is important, but many nurses get so caught up in the day-to-day routine of helping others that they may forget to step back, pause and care for themselves. Well, that stops today!
These five steps will help you better manage your life with PCOS so that you can focus on things that matter most–your family, friends and, of course, your patients.
1. Remember: You're not alone. The important thing to remember when dealing with PCOS is that you are not alone. Many nurses struggle to manage the symptoms (hair loss, weight gain, acne, etc.) associated with this disorder on a daily basis. PCOS is a real issue affecting real nurses in a real way. The first step to coping is knowing that there are others out there in your same profession who have found ways to lead healthy lives in spite of having PCOS.
2. Develop an exercise plan. Stick to it. How many times have you created an exercise routine or purchased the latest Zumba video, only to toss it aside within a matter of days? We've all been guilty of that! It can be hard for nurses to schedule workout time in between demanding shifts. However, every little bit of consistent effort counts. You can go for a five minute walk before and after your shift. You can take the stairs instead of the elevator (unless you're on the 50th floor!). What's important is that you do SOMETHING, no matter how small, and that you do it consistently.
3. Maintain a healthy diet. When you clock out, it can be very tempting to pull up to a fast food restaurant and grab a double cheeseburger with extra fries on the side. Yes, it sounds yummy, but it's probably not the best decision for anyone, let alone those who have PCOS. To combat this tendency, make sure to consume a healthy and hearty meal before your shift. Also, eating small but impactful snacks will help get you through the day (check out 110 healthy ideas here!). It may also help to prepare and store a post-shift meal at home so that you have a guilt-free dinner ready to eat when you get off.
4. Speak to your physician about treatment. If your efforts to control your PCOS don't seem to be working, don't hesitate to pay your primary care physician a visit. He or she may have treatments or medicine that will help you better cope with some of the symptoms you're experiencing.
5. Stay positive. When living with PCOS, it can be very easy to succumb to negative thoughts. However, it's important to remember that you are in control of this illness. It is not in control of you. Every little step you take toward leading a healthy and active life will help you better cope with and manage the symptoms of PCOS. You have the strength and the tenacity inside of you to master this! So what are you waiting for? Get active, stay positive and regain control of your life.
How do you handle PCOS symptoms while working as a nurse?