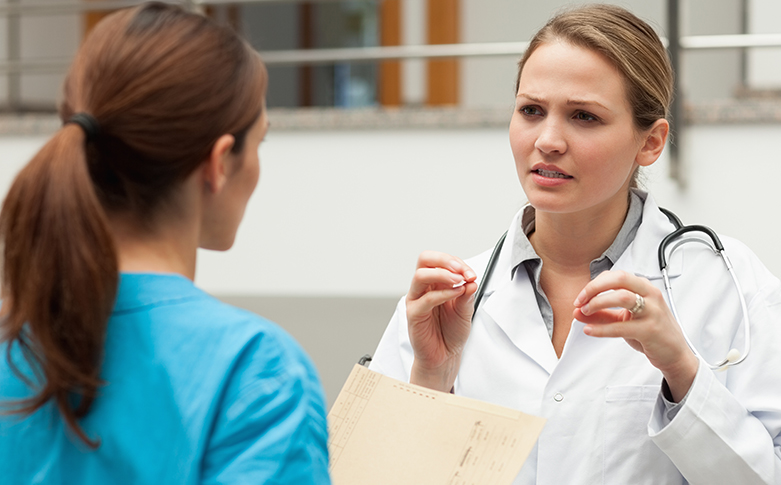 Shutterstock | wavebreakmedia
Nursing is a fast-paced world filled with unknowns. When you're on the clock, you start every day (or night) ready to hit the ground running—even if you might stumble.
But a new day at a new hospital with new colleagues? That's some next-level pressure—enough to discourage a nurse of any age from sticking around as a new hire.
However, it's important to remember that a new gig can be just as rewarding as it is scary, and there are ways to make an overwhelming transition, well, less overwhelming.
Start with these five tips:
1. Get those names down.
Yes, we know this is a simple concept, but it makes a big difference. Either new colleagues are pleasantly surprised that you've picked up their name with ease or they're slightly irked that you haven't—there really is no in-between. Since being "the new nurse" is infinitely less unappealing when you have coworkers willing to show you the ropes (and because an emergency situation requiring teamwork is no time to be unsure), it's best that you try to emerge from the name game unscathed.
Not great with names? First and foremost, forget that you ever said that. Nothing dulls your success quite like low expectations. Instead, always make eye contact with new colleagues during an introduction, addressing them by name as much as possible while you ask questions and share information. Not only will they appreciate the acknowledgment, but the repetition will help things stick, too.
2. Don't pigeonhole your social interactions.
Of course, it's important to start off on a friendly foot with the other nurses, but let's not forget, you know, everybody else. From maintenance to management to the physicians, you'll get much further with a friendly gesture when it comes to learning and support than having a "there's us, and then there's them" mentality.
Just think about it this way: The hospital is a kind of ecosystem, and you're at the very heart of it. Why not reap the full benefits of your position?
3. Orient like it's your job—because it will be.
Grappling with new methods, technology, language and all those "unofficial but more or less universally accepted" routines is no small feat. Help the nurse who's spearheading your orientation help you by really (and we mean really) listening, observing and addressing any confusion. You may feel foolish now, but it's the future mistakes that really sting (to put it lightly).
Don't shy away from sharing tips or tricks you've picked up elsewhere, as long as the conversation is collaborative, not combative.
Lastly, don't be afraid to ask for "more, please" if you feel as though you could benefit significantly from an extended orientation—management may very well grant your request. That said, keep in mind that no orientation process is perfect, and even the most experienced nurse remains a work in progress, so you can get used to asking a lot of questions.
4. Whatever you did to stay sane there, do that here, too.
You may be in a new setting, but nurses in particular can be creatures of habit—if only to achieve a small semblance of routine.
Whatever you did to lessen your anxiety before, find a way to replicate that exercise at your new place of work, from a favorite playlist to a quick breath of fresh air. The same goes for home—now is no time to skimp on stress management. Do what you've gotta do to feel strong, positive and rested, since "all-new everything" will really get you down if you aren't starting each shift with a clear head.
5. Give it some time.
If there's one thing to be said about nurses, it's that they don't give up easily. So why start now?
The fact is, no transition is going to feel seamless. Day one is going to be hard. So is day two, and so on through day "I can't even remember." It could be months before you begin to breathe easier, but that doesn't necessarily mean you're in the wrong place at the wrong time. Nursing is just that hard.
So find a confidant whom you feel comfortable asking for help, guidance or simply a shoulder, and hang in there.
We'll be rooting for you.
Nurses—what did you do (or wish you did) to start off on the right foot at a new job? Share, share, share in the comments section below!