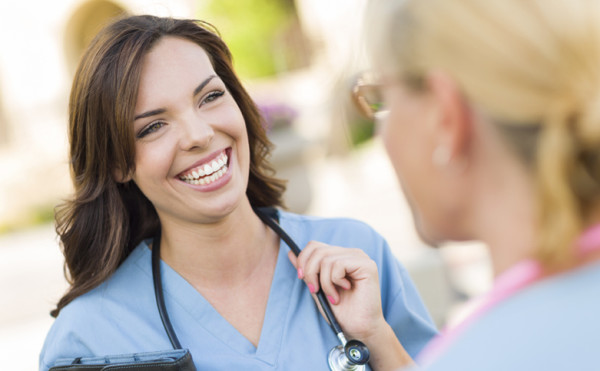 Nursing is equal parts difficult and rewarding—although, as you know, sometimes the difficulties seem to outweigh the rewards. One of the hardest parts about being a nurse is what it does to your body. We work long shifts, stay up all night, and spend countless hours on our feet. You may have a 12-hour shift three days in a row, leaving you little time to properly catch up on rest… you might pick up colds and other unwanted gifts from your patients… the list goes on and on.
Needless to say, your beauty routine suffers. When it comes to taking care of your hair and skin, you often only have the time for the bare minimum. Fortunately, there are some great beauty products out there for nurses. Here are five to check out:
1. Olay Regenerist Night Recovery Cream
For those rare nights (or days) where you are able to get some sleep, consider Olay's classic Regenerist Night Recovery Cream. It has a peptide-B3 complex, niacinamide, and potent antioxidants which help replenish, repair, and renew your skin. Apply the cream before bed, and your skin will feel soft and supple in the morning.
Stress, aging, and the environment can thin and weaken your hair. Ovation Hair offers a fantastic line of products to nourish and revitalize your locks; the products are designed to help you get thicker, stronger, longer hair.
Choose from a variety of shampoos, conditioners, and styling products. Consider Ovation Hair's popular Cell Therapy, a paraben-free hair and scalp treatment clinically proven to deliver healthier hair. What's more, Ovation's products are cruelty-free and they offer a 365-day money-back guarantee.
3. Shiseido Perfect Cleansing Oil
This may be a bit of a splurge, but it's worth it. Shiseido's Perfect Cleansing Oil is a light oil-based cleanser that removes dirt and makeup—even waterproof makeup—while softening the skin. It may seem counterintuitive to use an oil to cleanse your face, but oils are actually very effective at removing dirt and makeup. It's a great product for those short on time (like nurses) and those who only want a single cleanser—one that both removes makeup and cleanses. Over time, you'll have softer, plumper, and more glowing skin.
4. Sheet masks
Sheet masks are uber-popular in Korea and other Asian countries, where skin care is serious business. What exactly is a sheet mask, you may ask? Sheet masks are thin cotton masks (with holes cut out for the eyes, nose, and mouth) which are coated in various liquid-based products designed to moisturize, brighten, lighten, exfoliate, reduce fine lines, and more.
Consider Dr. Jart+ Water Replenishment Cotton Sheet Mask, which not only provides a ton of moisture but it also adheres tightly to the skin, enabling you to get things done while you have it on. Dishes need washing? Toys need to be picked up? Throw on this sheet mask and take care of yourself while taking care of your house and others.
5. Dry shampoo
Busy nurses may not have time to wash their hair, and some of us have thin hair which can get oily towards the end of our shift. A great solution is dry shampoo, a spray that works by absorbing oil from your scalp and hair, making your hair appear and feel freshly washed.
An excellent choice is Klorane Dry Shampoo with Oat Milk, which absorbs oil and doesn't leave a "dusty" look in your hair as many other dry shampoos do. It's also great for brunettes.
As a nurse, your job is to take care of other people, but, as you know, it's critical that you take care of yourself, too. In addition to getting enough sleep, eating right, and exercising, the beauty products you use at home can make a difference in your appearance and how you feel about yourself. Pick up one or two of the beauty products described above and feel cleaner, fresher, and hopefully just a little bit more beautiful!