Nurses can make a tremendous difference in how people with higher weights get treated during their health appointments. With anti-fat bias and weight stigma rampant in our society—yes, studies tell us, even among professionals in hospitals and medical offices—nurses can take the lead and treat these patients with the dignity and respect they rarely receive.
Here are five ways that nurses can have a positive impact:
Weigh-ins: Many higher weight patients dislike being weighed because they view scales as shame machines. Some patients may ask to face backward to avoiding seeing the dreaded number. Others might request that you not inform them what they weigh.
Gowns and Chairs: Make sure that you have examination gowns that fit larger-sized patients. Check that office chairs will accommodate them comfortably. Some medical offices use benches or settees. And don't forget that some heavier patients might need help climbing on and off the examination table.
Stop promoting weight-loss diets: Read books and studies about why diets don't work long-term and how they can promote weight regain due to slowing metabolism, generating feelings of deprivation, and triggering rebound eating. Learn about the successful approaches of mindful and intuitive eating and how psychological strategies help patients eat more "normally" and nutritiously without dieting.
Be compassionate: Rather than shame or lecture patients about not losing weight or keeping it off, ask questions to learn about their relationship with food. They may have lost and regained hundreds of pounds in their lifetime. Many of them have emotional or binge-eating problems, suffer from depression, anxiety, PTSD, or stress from weight stigma (prompting food-seeking for comfort), and have grown fatter from chronic dieting and weight cycling.
Change your practices: Talk with staff about instituting a no-shame, no-blame, no-diets policy in your office. Endeavor to get doctors and support staff on board. Make sure that your own anti-fat bias or struggles with eating and weight don't negatively impact patient interactions. Acknowledge your own biases, and seek input from patients with eating and weight concerns on how you may better serve them.
You may not have thought of these problems before and feel powerless to improve the atmosphere where you work. Start by thinking about how you can change yourself and be a role model for others. That's often the best way to get the ball rolling.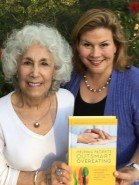 Karen R. Koenig, M.Ed., LCSW, (left) is the international author of seven books on eating and weight, a health educator, popular blogger, and psychotherapist who has treated clients with eating and weight concerns for over 30 years. Her specialty is eating psychology—the how and why of eating, not the what of it. Learn more about her and her work at http://www.karenrkoenig.com.
Paige O'Mahoney, M.D., CHWC, (right) is the co-author, with eating disorders therapist Karen R. Koenig, M.Ed., LCSW, of Helping Patients Outsmart Overeating: Psychological Strategies for Doctors and Health Care Providers. A health and wellness coach, certified Intuitive Eating counselor, retired pediatrician, award-winning author and foodie, she helps men and women overcome overeating and create deliberate, satisfying lives. Information about her coaching practice, workshops, trainings for health professionals, meal planning tips and recipes may be found at www.deliberatelifewellness.com.
Disclaimer: Please note that this article is intended for informational and educational purposes only. It is not intended as a substitute for the medical or psychological assessment, advice and individualized care from your personal health care provider or mental health professional. Please consult with your personal health care professional regarding your individual situation and concerns. For health care providers, the information contained herein may not be applicable or appropriate for every patient. Paige O'Mahoney, M.D. and Deliberate Life Wellness LLC specifically disclaim any and all liability arising directly or indirectly from the use of any information or products contained in these materials. Mention of products, techniques, methods, resources, approaches, or other entities in our materials is for informational purposes only and does not indicate endorsement.