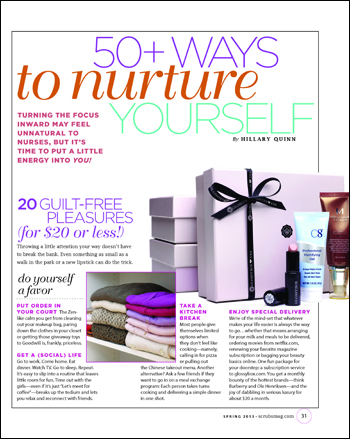 Turning the focus inward may feel unnatural to nurses, but it's time to put a little energy into you! We found more than 50 easy ways to show yourself a little TLC.
20 GUILT-FREE PLEASURES (for $20 or less!)
Throwing a little attention your way doesn't have to break the bank. Even something as small as a walk in the park or a new lipstick can do the trick.
PUT ORDER IN
 YOUR COURT The Zen- like calm you get from cleaning out your makeup bag, paring down the clothes in your closet or getting those giveaway toys to Goodwill is, frankly, priceless.
GET A (SOCIAL) LIFE Go to work. Come home. Eat
 dinner. Watch TV. Go to sleep. Repeat. It's easy to slip into a routine that leaves little room for fun. Time out with the girls—even if it's just "Let's meet for coffee"—breaks up the tedium and lets you relax and reconnect with friends.
TAKE A KITCHEN BREAK Most people give themselves limited options whenthey don't feel like cooking—namely, calling in for pizza or pulling outthe Chinese takeout menu. Another alternative? Ask a few friends if they want to go in on a meal exchange program: Each person takes turns cooking and delivering a simple dinner in one shot.
ENJOY SPECIAL DELIVERY We're of the mind-set that whatever makes your life easier is always the way to go…whether that means arranging for your milk and meals to be delivered, ordering movies from netflix.com, renewing your favorite magazine subscription or bagging your beauty basics online. One fun package for
your doorstep: a subscription service
to glossybox.com. You get a monthly bounty of the hottest brands—think Burberry and Ole Henriksen—and the joy of dabbling in serious luxury for about $20 a month.
INSPIRE YOURSELF There's something to be said for dreaming, which is why listening to TED talks, watching a video
like wherethehellismatt.com, or poring over beautiful home-design magazines or luscious-looking cookbooks can be motivating pastimes. Another source of inspiration: pinterest.com. Sign up for free, then log in and be prepared to get lost in a virtual photo album that will motivate you on every front—from food to furniture to fitness to fashion.
BE AN ESCAPE ARTIST Everyone tires of the relentless demand of phones and BlackBerries, computers and cars. So make a conscious effort
to check out for an entire weekend… by going offline, screening your calls and turning off anything that buzzes, dings or rings. You'll feel like you're on a vacation from life—no travel required.
HONOR YOUR UNMENTIONABLES There's no other way to say this…every girl needs an underwear
overhaul on
occasion. So
 go through
 your
 "drawers" 
and toss
 the torn, the
tame and the tired
panties, restocking
with feminine-yet-comfy
styles that you'll be happy to
see each morning. One brand we love: Gilligan & O'Malley (about $5 a pair 
at target.com).
GET ON THE SCENT A sterile work environment can leave your senses begging for more…fragrance,..that is. That's why it's comforting to create olfactory moments at every turn. When you come home from work, light a deliciously scented candle, ply your bed with a lavender pillow and keep a tiny, tote-anywhere fragrance in your car or handbag for a quick pick-me-up. A perfect idea: Crabtree & Evelyn Solid Perfume Compact—you can choose from lavender, rosewater, lily and iris ($13 at crabtree-evelyn.com).
SOFTEN UP Counteract the clinical nature of your work life by adding tactile pleasures wherever you can. It's welcoming to come home to an über- comfy fleece blanket on your TV couch or to see luxurious slippers waiting by the front door. Or put your head on a satin pillowcase each night (about $11 to $20 at Target, JCPenney and overstock.com). Bonus: The silky fabric will prolong your 'do and leave your hair—and face!—crease-free each morning.
REFRESH WITH GRAPEFRUIT The invigorating scent of this citrus powerhouse is the central ingredient in many beauty products these days. Two we love: Burt's Bees Refreshing Lip
Balm with Pink Grapefruit, which contains vitamins C and E ($3 at
drugstores); and
derma e Pink
Grapefruit Hand
& Body Moisture
Therapy, which is
so intoxicating you'll
be sniffing your hands
every time you hit the
handy pump dispenser (about $9.50 at health and vitamin stores).
TREAT YOUR FEET We don't have to remind you of the beating your tootsies take from hours on that linoleum floor. Pamper yourself with a pedicure—enjoy the sensuousness of soaking your feet in a warm bath and having someone else rub your tired arches. No time? Slather on a workaholic product, like derma e Intensive Therapy Foot Crème—it's actually stocked with ingredients designed to support healthy circulation (about $19 at drugstore.com).
STOP AND SMELL THE ROSES A flower delivery is fabulous (and now and again, you might actually find a deal at your local florist). Or try a spritz of Heritage Products Rose Petals Rosewater ($9 at vitamin and health food stores, and at amazon.com). This lovely facial atomizer smells like a fragrant rose garden and delivers an energizing boost, says celebrity makeup artist Robin Black. Use it on your body, your pillowcase…even in your culinary creations.
PAY LIP SERVICE Put your money where your mouth is by counteracting dry hospital air with soothing balms and glosses that feel great when you apply them. We love derma e Hydrating Lip Repair—it contains super-hydrating hyuralonic acid and comes in a pocket- friendly tube (about $14.50 at natural food stores and at amazon. com). And when it's time for a bit of color, L'Oreal Paris Colour Riche Caresse hits every base: six hours' of moisture and glossy shine (about $10 at drugstores). Sheer Linen—a rosy beige— and Pink Cashmere are our workday favorite shades.
LOVE THE 
SKIN YOU'RE IN Plenty of companies have launched "beauty balms," but L'Oréal Paris Youth Code BB Cream Illuminator is our hands-down favorite ($16.99 at drugstores). In one generous tube, you get broad-spectrum sunscreen, vitamins, moisturizer and just the right amount of coverage.
TRY AN EYE-OPENER Looking for that little pop of color? M•A•C Fluidline Eyeliner is your go-to product ($15 at maccosmetics.com). The no-smudge gel formula goes on like a dream
and comes in six
shades. CoverGirl
NatureLuxe Mousse
Mascara creates lush
lashes that will last
through a 12-hour shift
without dry, flaky clumps
(about $9 at drugstores). To
frame your eyes, consider a brow wax, often as little as $12 at local nail salons.
GIVE YOUR HAIR SOME CARE Consider a professional blowout for a change—you'll feel like a million bucks. Though the going rate across the country is about $35, you can whittle the price to $20 through package deals or
 online
 discounts.
 Another
 affordable
 way to indulge: eSalon Custom Formulated Haircolor, an online auto-delivery service that offers the perfect compromise of professional guidance and affordable pricing. For $19.95, they'll take you through a detailed, interactive hair-color evaluation for the perfect formula, delivered to your doorstep with a 100 percent money-back guarantee (esalon.com).
GET A LITTLE GLAM You've been wearing Crocs and scrubs and neutral nail polish…so when there's no shift on the calendar, segue to style that pushes the envelope a bit. Wear a sky-high heel (try gojane.com for affordable, "fun" shoes); pull out your anything- but-subtle fragrance; grab a bottle of Essie's Bungle Jungle (a pearlescent hibiscus red) and do your nails
up right (about $5 at amazon.com).
LEARN TO LAUGH The best kind of ab workout may just be the one you get after a good, unexpected belly laugh. Hit the local comedy club on occasion or just succumb to some silly car dancing with your kids now and then. As they say, laughter is the best medicine.
REVEL IN YESTERDAY'S BEST There's something comforting about indulging in simple pleasures from times gone by: Dig out your soft, old Levi 501s; drink Coca-Cola from a glass bottle; eat mashed potatoes for dinner; or pick up Dr. Bronner Magic Pure Castile Classic Liquid Soaps ($10) from the grocery store. These all-natural body washes, in scents like peppermint, lavender and almond, have been around for some 60 years and are perhaps the most humble way to turn your tub into a home spa.
LET THE SUNSHINE IN Head outdoors for a 15-minute nature break and soak up some vitamin D. A short walk on the way to work or an afternoon break in a garden will lift your spirits.
15 HEALTHY SNACKS (150 calories tops!)
These easy-to-grab nibbles are diet-friendly and offer long-lasting energy. "That's because each is the perfect balance of protein, healthy fat and fiber-rich carbohydrates," explains Stephanie Clarke, MS, RD, cofounder of cjnutrition.com. Even better: They keep you away from the unhealthy temptations that beckon from the hospital vending machines.
SAVORY…
Edamame: 1 cup of precooked edamame. (Bonus: It takes a while 
to nibble!)
Mini Cheese Plate: Pair a whole-grain flatbread cracker with 4 ounces
of cheddar cheese and 2 dried
apricot halves.
Creamy Cuke Toast: Top half of a whole-grain sandwich thin with 1 tablespoon reduced-fat cream cheese,
4 slices of cucumber, a pinch of black pepper and the remaining half of the thin.
Popcorn Mix: Toss 3 cups air-popped popcorn with 2 tablespoons Parmesan cheese and 1 teaspoon toasted sunflower seeds.
Turkey Roll-Up: Spread an
8-inch whole-wheat tortilla with
1 tablespoon hummus and 1 slice of turkey breast, then roll and eat.
Tuna and Crackers: Pair 3 ounces of Bumble Bee Sensations® Seasoned
Tuna Medley Bowl Sundried Tomato
& Basil with 5 Kashi Crackers
 Original 7 Grain..
Eggy Tomato Nosh: Snack
on a hard-cooked
egg with 1/2 cup
sweet cherry
tomatoes.
SWEET…
Banana Crunch: Roll a medium banana in 1 tablespoon
 chopped walnuts.
Vanilla Almond Apricot
Cream: Top a 6-ounce container of Chobani vanilla nonfat Greek yogurt with 3 dried chopped apricots and 1 teaspoon sliced almonds.
AB&J: Spread
2 teaspoons almond
butter and 1 teaspoon jam on 1 slice of whole-wheat bread.
Rainbow Ants on a Log: Top 2 medium celery stalks with1 tablespoon peanut
butter and 2 tablespoons
mixed dried fruit.
Cranberry-Pecan Trail Mix:
 Mix 1/3 cup Kashi Heart to Heart Warm Cinnamon Oat or Honey Cereal with
1 tablespoon dried cranberries and
1 tablespoon pecan halves.
Clif Kid Zbar: Chocolate Brownie flavor—our favorite!
Fig-Topped Ricotta: Top 1/3 cup part-skim ricotta cheese with 2 dried chopped figs and a dash of cinnamon.
Cream Cheese Date Bites: Spread each of 3 Reduced Fat Triscuits with 1 teaspoon reduced-fat cream cheese, then top with 1 dried date and 1 walnut half.