Working as a nurse can be extremely challenging at times. Not only are nurses expected to care for multiple patients, they're expected to perform scheduled procedures and administer medications at precise times. Occasionally, it can feel like staying on top of your responsibilities as a nurse is impossible. For this reason, getting a little help is better for you and ultimately better for your patients as well. Believe it or not, sometimes the best help for nurses comes in the form of a smartphone app. Here are 6 must-have apps that you'll find extremely helpful as a nurse:
Nurse's Drug Handbook ($24.99 per Year)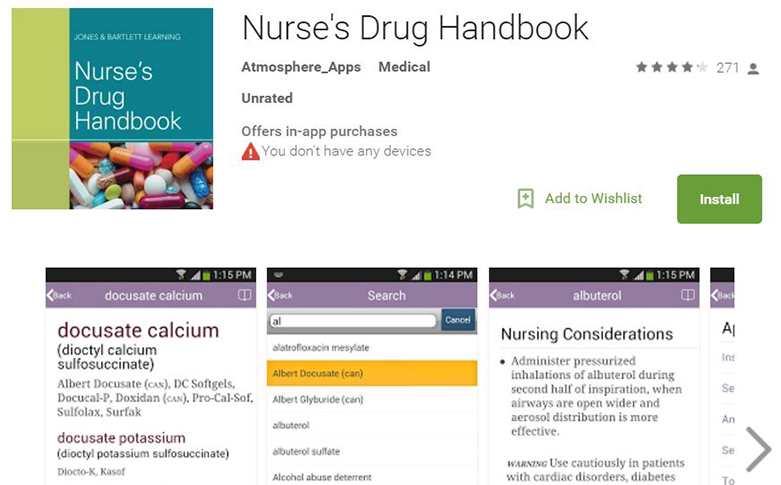 Available now on the Play Store, this handy app is a great alternative to a paper drug guide. Not only does it contain comprehensive information on hundreds of drugs, it contains nursing considerations, including patient-teaching points. One of the best things about this app is that it features a search function that makes it possible to save tons of time when searching for a drug. Since nearly all nurses are incredibly busy, saving a minute or two here and there can really make a HUGE difference when it comes to meeting all of your patients' needs.
Nurse's Aid (Free)
As a nurse, you have plenty of responsibilities that you're expected to meet over the course of a shift. It can be difficult to keep track of these responsibilities without a little help, which is where Nurse's Aid comes in. This free app on the Play Store is essentially a short-term task scheduler; it allows for the scheduling of various tasks and reminders in seconds. Unlike other task-management apps, Nurse's Aid is quick and easy to use, which makes it perfect for use over the course of a single shift.
NCLEX RN Mastery ($29.99)
If you're a student nurse or a recent graduate studying for the NCLEX-RN exam, this app is definitely a MUST! Featuring NCLEX-style questions, timed quizzes, and comprehensive study strategies, NCLEX RN Mastery is absolutely the best app to use as a study guide for the NCLEX. While the purchase price is a bit steep for an Android app, the developer guarantees that you'll pass your exam with its help. Since this is the most important exam of your nursing career, spending a little extra to increase your chances of passing is worth it!
Google Calendar (Free)
If you work PRN or at multiple locations, you definitely need a calendar app to keep track of your upcoming shifts. Fortunately for you, the best app for this happens to be the free Google Calendar app! While this app wasn't designed for nurses specifically, it's still the best app for keeping track of nursing shifts. With a reminder function, a to-do list, and an event overview screen, Google Calendar has everything that you need to ensure that you're able to keep track of your work schedule easily!
Medscape (Free)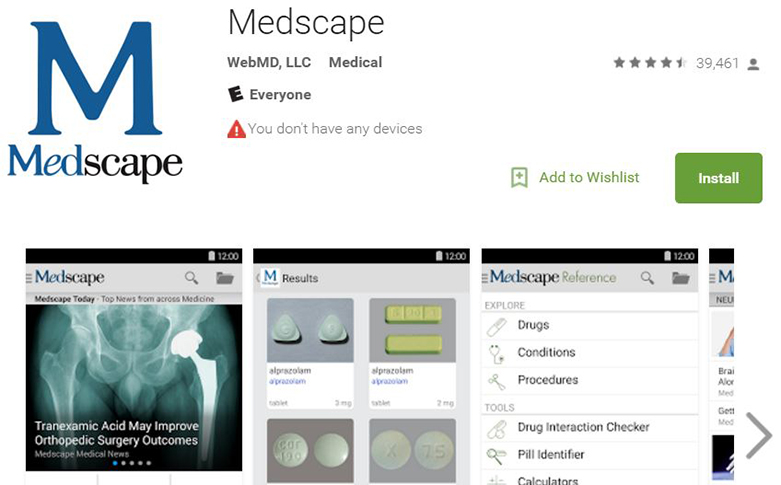 Keeping up with the latest medical news, pathophysiology information, and drug details is not easy, even for an experienced nurse. Fortunately, WebMD's Medscape app contains all of this and more, making it less of a challenge to remain knowledgeable in the ever-changing medical field. Additionally, Medscape contains accredited CE courses in more than 1,000 topics, so it can also be used to help fulfill your yearly licensure requirements!
Medical Terminologies (Free)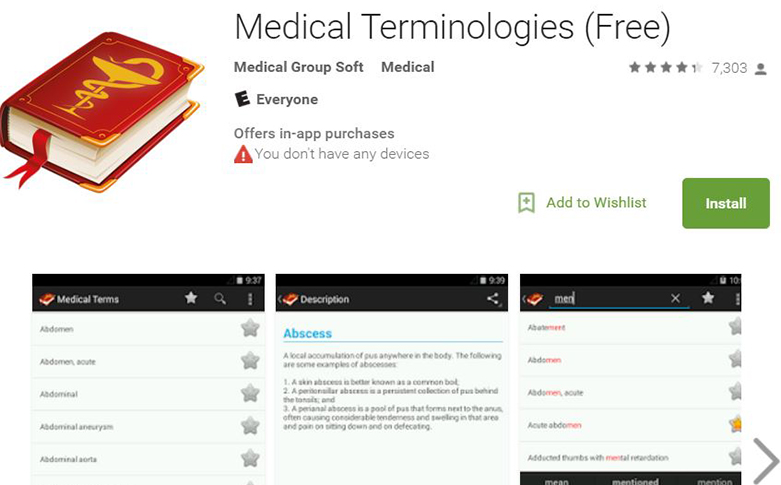 Even experienced doctors and nurses need to look up medical terminology occasionally. This free app contains thousands of commonly used medical terms and features an easy-to-use search function so that you can find word meanings quickly. It works offline, so you can use it when you're at work, even if you don't have a data connection. Instead of trying to search for terms online, use this app and save yourself both the headache and the time!
Advances in technology have changed the medical field drastically over recent years, and smartphone apps are a great example of that. These six apps are fantastic time-savers for staying organized and finding information in a busy profession. What apps do you use?