6 lesser known Hall of Fame nurses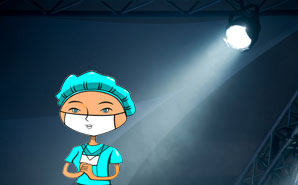 Did you know there's a Hall of Fame for nurses? It shouldn't come as a surprise, given the tremendous impact nurses have been making ever since the profession came into existence.
The American Nurses Association's Hall of Fame lists many known names such as Margaret Sanger and Virginia A. Henderson, the powerhouse behind the Henderson theory of nursing. But what about the lesser known nurses and their contributions? To ensure they would be remembered as a part of nursing history, the ANA Bicentennial Celebration Committee unveiled a Hall of Fame in 1976.
Until (and including) 1996's additions, inductees had to be deceased to be considered for a place in the Hall of Fame, but this is no longer the case. Nominations are now done every two years at the ANA conventions. To be considered for induction, a nurse must have made a significant impact on nursing that will last beyond his or her lifetime. This may include work in nursing practice, education, administration, research or literature, and the nurse must work in or represent the United States or its territories.
Let's look at six nurses who are no longer with us, but to whom we owe a great deal of thanks.
Julia Catherine Stimson
In 1920, Stimson, who was then superintendent of the Army Nurse Corps, became the first woman major in the United States Army. Six weeks before her death in 1948, Stimson was promoted to full colonel. Stimson came from quite a privileged background, so her choice to study nursing may have come as a surprise to many (in her day, this wasn't the type of work for proper young ladies). Although she didn't fulfill her dream of becoming a physician (her parents wouldn't allow it), she left a strong mark on the nursing world. The ironic part? Seventeen years after Stimson was told she couldn't go to medical school, her parents allowed her sister to attend.
Susie Walking Bear Yellowtail
Born in 1903, Susie Walking Bear Yellowtail, the first American Indian RN graduate, made a strong impact on the Crow Reservation, where she spent most of her nursing years. Luckily for the nation, Walking Bear Yellowtail became involved in working with the Indian Health Service and then with the U.S. Public Health Service. Through this work, she assessed issues in reservations across the country. Awarded "Grandmother of the American Indian Nurse" by the American Indian Nurses Association in 1978, Walking Bear Yellowtail died three years later.
Sister Berenice Beck
Sister Berenice Beck had a few firsts to her name. Born in 1890, Sister Beck was the first nurse in the state of Wisconsin and among one of the first nurses in the United States to obtain a doctorate. The Code for Professional Nurses, which had been in the works since the 1920s, finally passed in 1949 by the ANA's Committee on Ethical Standards, a committee chaired by Sister Beck.
Mary Eliza Mahoney
America's first school-educated African American nurse was Mary Eliza Mahoney, born in 1845. Unlike unpaid nurses of African American descent like Harriet Tubman and Sojourner Truth, who had come before her, Mahoney was the first to attend and graduate from nursing school. She was also an original member of the Nurses Associated Alumnae of the United States and Canada, which was made up of mostly white nurses at that time. She also cofounded the National Association of Colored Graduate Nurses.
Mary Opal Wolanin
If you work in gerontology or long-term care, you have Mary Opal Wolanin to thank for many of the advances in care for seniors. Born in 1910, Wolanin worked in various areas of nursing and had received certification in psychiatric nursing. In 1968, she began working on long-term care issues, continuing her concern with gerontology nursing until her retirement. It was through Wolanin's work that the first gerontological graduate nursing program was established at the University of Arizona.

Lavinia Lloyd Dock
Remember those nursing textbooks you had to buy? Did you ever wonder about the people who wrote and edited them? Lavinia Lloyd Dock, a nurse born in 1858, wrote one of the first nursing textbooks,
Materia Medica for Nurses.
This was followed by the text
Hygiene and Morality.
In 1907, she began writing the four-volume
History of Nursing,
the first two with Adelaide Nutting. Dock died in 1956.
Inductees into the Hall of Fame come from all nursing specialties. Do you know a nurse who deserves this recognition? You can nominate him or her by going to the ANA website.
Sources:
http://www.nursingworld.org/FunctionalMenuCategories/AboutANA/Honoring-Nurses/HallofFame/19761982/stimjc5586.aspx
http://www.nurses.info/personalities_susie_yellowtail.htm
http://beckerexhibits.wustl.edu/mowihsp/articles/Stimson.htm
http://www.cdc.gov/mmwr/preview/mmwrhtml/mm4847bx.htm
http://www.nurses.info/personalities_mary_mahoney.htm
http://www.aahn.org/gravesites/beck.html
http://www.nursingworld.org/MaryOpalWolanin
http://www.google.ca/url?sa=t&source=web&cd=3&ved=0CB0QFjAC&url=http%3A%2F%2Fwww.nursing.arizona.edu%2Fjune97.pdf&ei=IxUZTICjDMT6lwfpnrzMCw&usg=AFQjCNFvGgXmUrmo_4L_qHqsE2EWLe_KEQ
http://www.nursingworld.org/LaviniaLloydDock