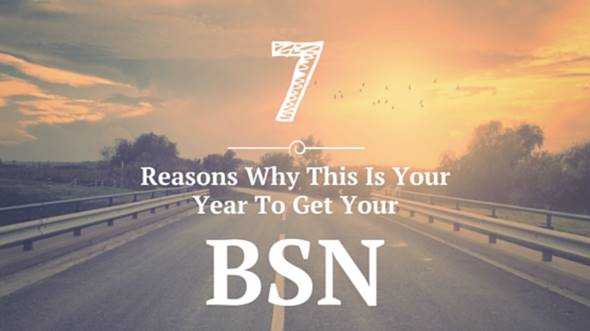 For many nurses, making the decision to go back to school and obtain their BSN isn't easy. If you're still on the fence about entering a BSN program, pay close attention to the following 7 reasons why this is your year to get your BSN:
The Push for Nurses to Have BSNs Is Growing
While it's not a requirement yet, more and more organizations want nurses in healthcare settings to have their BSNs. In fact, in a 2010 report on the future of nursing, the National Academy of Medicine recommended a push to increase the proportion of practicing nurses with BSNs to 80% by the year 2020. Obtaining your BSN will help you remain competitive for the best positions with the top healthcare employers.
A BSN Opens More Professional Doors
There are many nurses who have associate degrees who provide excellent patient care. However, their professional options are limited. With a BSN, you are prepared for a wide range of professional opportunities including expanded clinical roles and leadership positions. In addition, you are prepared for graduate school that will open even more doors such as a career as an advanced practice nurse or a nursing educator.
Obtaining a BSN Isn't as Disruptive to Your Life as You May Think
With online education demonstrating the same quality as traditional education approaches, it's more convenient than ever before to complete a BSN program. By enrolling in an online program, or even a hybrid program, it's possible to complete classes while practicing full time and taking care of personal responsibilities and competing obligations.
You'll Broaden Your Knowledge on Nursing and Healthcare
It's impossible to know everything there is to know about nursing practice, but it's always possible to know more! If you've ever wanted to learn more about the ins and outs of professional nursing, you should definitely consider entering a BSN program and letting your professional curiosity fuel your educational journey!
You'll Provide Safer and Higher Quality Patient Care
The American Association of Colleges of Nursing (AACN) believes that higher education has a strong impact on a nurse's ability to practice, and that patients deserve the best-educated nursing workforce possible. In a study published in the October 2014 issue of Medical Care, researcher Olga Yakusheva and her colleagues found that a 10% increase in the proportion of baccalaureate-prepared nurses on hospital units was associated with lowering the odds of patient mortality by 10.9%. They also found that increasing the amount of care provided by BSNs to 80% would result in significantly lower readmission rates and shorter lengths of stay.
Employer Covered Tuition
With the push for highly educated nurses growing, many healthcare organizations and hospitals are willing to cover tuition costs for their nurses. If your current employer offers full or partial tuition reimbursement, you should absolutely take advantage of it. If you don't, you'll be missing out on an excellent opportunity to advance your career without paying much, or possibly anything, out of pocket.
You'll Be One Step Closer to Getting an Advanced Degree
With your new BSN in hand, you'll be in the perfect position to start considering the pursuit of an advanced practice nurse, nurse educator, researcher, or executive leader. To find out how an advanced degree can help you and your nursing career, be sure to check out this post.