7 summer Etsy picks for nurses
The lazy, hazy, crazy days of summer are almost at hand. My, how the time flies! You may be counting the days until your beach vacation…or a staycation with a good book and a glass of lemonade in your own backyard. Don't wait to begin the celebration. Start sprinkling the zest of the summer season wherever you go. Here are some of our new Etsy favorites to turn up the heat with fashion accessories for work and play.
Sandals and Syringes
You may love wearing a pair of thong sandals or going barefoot on the sand. But as a nurse, you are ever mindful of the risk of stepping on something sharp, unpleasant and decidedly dirty. That's why you need your tetanus shot and a Band-Aid close by. This charming stretch bracelet for nurses has a sandal dangling from it, complete with a tiny syringe and a bandage. The description of the item is quite funny: "Looks more beautiful in person." Don't we all!
Take Your Stethoscope Sock for a Dip
We've featured stethoscope covers before, but this one is ready to get wet and wild. A fancy, fuzzy fabric may feel cozy around your neck, but it may have a limited lifespan once you actually start using it at work. This simple cotton sock with its nostalgic seaside print can be tossed in the wash with your scrubs to keep it nice and clean. The edges of the fabric are serged and hemmed for added durability.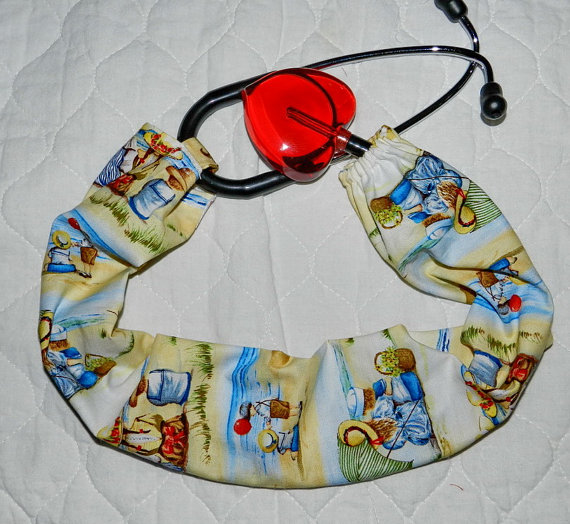 You Can Take It With You
We don't even know where to begin with the adorable look of this Nurse Purse™. The print features a baby Neptune clutching a toothpick-size trident. Chubby starfish dance along the edge and couples canoe down a river, smiling and in love. This product is made by a nurse, tested and approved by nurses, and ready to hold anything you need at work or at play. The maker says, "This purse would also be adorable for your beach vacation. Use it to carry your keys, lipstick and credit cards when you go to dinner." We think you'll be reaching for that credit card to snatch up one of these cute little shoulder bags.