February may have been the month for romance, but why not show your feet some love year-round? These two trusty friends will take you out dancing or for long walks on the beach regardless of your relationship status. They deserve to feel pampered, so we've rounded up some of the sweetest styles for just that purpose.
Are You a Big Softie?
As the name suggests, the Softie shoe offers several layers of comfort. This includes a removable cup insole (with a wickable lining) and a supple leather upper that will crease without pinching. It's kind of like stealing a velour bathrobe from a luxury hotel to wrap around your feet. At the same time, the outer shell of the shoe is highly durable. So, maybe it's more like a well-worn leather bomber jacket with rubber tread and microfiber lining. Either way, it's a treat for your toes.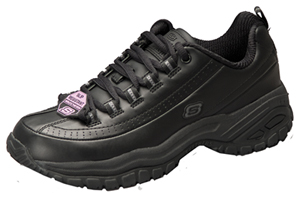 Dance, Dance Revvolution
Emma Goldman is famous for saying, "If I can't dance, I don't want to be part of your revolution." Well, perhaps you'll revolutionize your work life if you can sashay your way through a few shifts in this shoe. The Revvolution is a surprisingly low-profile, lightweight, athletic-style shoe that has a lot going on under the vamp. It even has a midsole airbag to cushion against impact. Unlike the airbags in your car, this little number will withstand hundreds of thousands of little impacts every day. If only your heart was so resilient!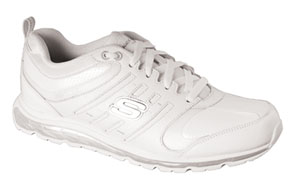 Show Some Skin
Wait, we just meant showing some snakeskin. Oops, that actually sounds even naughtier. The Step In lets you wear white in a whole new way. The textured leather upper isn't really reptilian, but it does a pretty good imitation. Shed your outdated fashion habits and get styling with these serpentine shoes. The soft padded collar will coil cozily around the top of your foot while the lightweight outsole helps you slither silently across the hospital floor.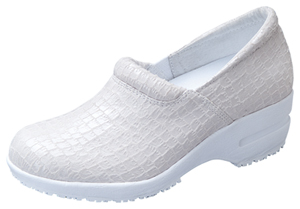 You Know the Drille
This leather Espadrille clog is inspired by the jute rope-enhanced shoes that have become something of a fashion statement over the last few years. Of course, the mesh detailing here is on the upper so the shoe can feature a conventional molded outsole that's workplace compliant. We just love the macramé effect over bright stripes with patent leather toe caps and straps. You'll want to wear your shortest scrubs pants to keep from covering up these beauties.