With December well underway, are you finally feeling the chill? Is hot (or lukewarm) coffee just not enough to keep you warm anymore? It's time to start layering your scrubs wardrobe to insulate and look great. Here are some hot combos you can use to stay warm this winter.
The Holly and the Ivy
How do you mix red and green without looking too much like an extra in Elf? By toning down these hues so they aren't quite so "North Pole." Instead, start with a deep wine red mock wrap top with contrasting black trim. Add a hunter green jacket worn open on top. Black or wine red scrubs pants finish the look.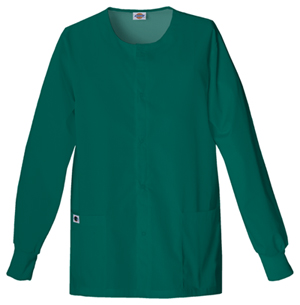 From Day to Evening
Planning to wear your warm-up jacket all through your shift? Then why not choose one that's a real stunner? Forget red and green. Go for a rich, royal eggplant instead. A snap front style lets you open and close the jacket throughout the day as needed for when you go from freezing cold to just mildly chilly. The shapely cut of this scrubs topper make it an elegant choice for the deep of winter. Wear it over black, white, gold, or green to match your mood.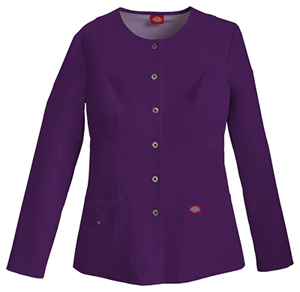 Keep the Season Going…
Peace and joy shouldn't only hang around until Christmas is over. Slip on this slim fit mock wrap top over a white t-shirt to help calm your chattering teeth. You can keep wearing this winter-themed scrubs top as long as there is snow on the ground.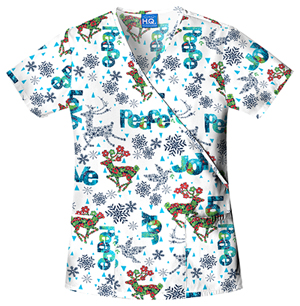 Flip It Like It's Hot
This is the find of the season—the cutest warm-up jacket on the market. This cardigan-style charmer has a Swiss dot pattern of white and blue on one side with blue and white pinstripes on the other. It's a cozy, stretchy double face jersey knit for maximum snuggle factor. The waterfall lapels mean you never have to worry about losing a button or getting a zipper snagged. With patch pockets on the stripey side and the spotty side, we bet a lot of nurses are going to stuff these jackets inside and out with gear. Wear it over a crisp white scrubs top to look your best on every shift.
Short Over Long
Do you like to mix it up with your layers? You can try something new with this odd couple. Start with a navy long sleeved, screenprinted T featuring floral swirls. It looks a little too relaxed for the workplace on its own. But it's just right if you add a white button down scrubs top with classic fit and patch pockets. And that lapel is just begging for a decorative holiday pin!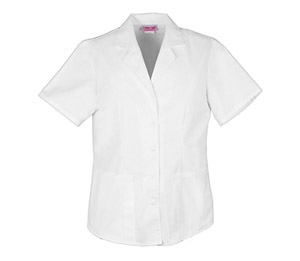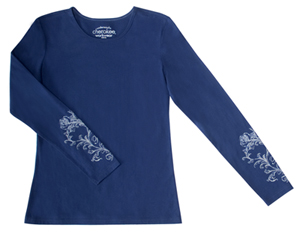 Sleek, Stylish and Sweet
While some warm-up jackets can be a little baggy, this one is definitely more sporty. The black knit side panels add shape and are visually slimming. Ribbed knit cuffs let you push up your sleeves and get to work right away. The "Unchain My Heart" print has a field of linked hearts tumbling against a black backdrop that appears to be sprinkled with snow flurries. Pair it with a shocking red or pink scrubs top underneath.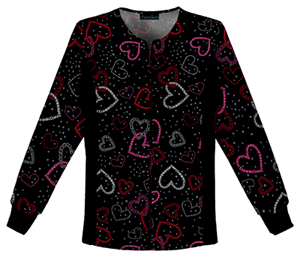 Warm All Season Long
When is a deep V-neck a good thing? When it's featured on a cardigan warm-up jacket…it lets you showcase your layers! For maximum effect, pick a scrubs top with ornate details. A fashionable white top featuring an embroidered, elaborately shaped neckline punches up this outfit and draws the eye upward. It's a look you can pull out of the closet for Christmas and Valentine's Day. For New Year's, wear red over gold or black instead to give this ensemble a festive flavor.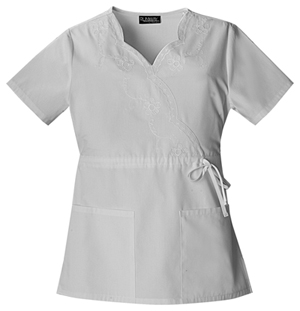 Sponsored by Cherokee Uniforms