89 years old and still going strong…our inspiring nurse of the week!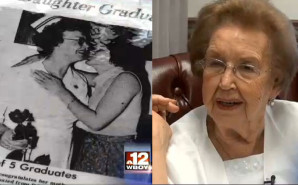 Ever feel like you're 90 years old at the end of a long shift? So does Ruth Hepler.
Here's the difference, though: Hepler actually is 90! Well, 89 to be exact.
Four days a week you'll find Hepler at Nella's Nursing Home in Randolph County, W.V, according to WBOY.com. She will have driven herself there and will likely be overseeing and comforting patients in addition to performing nursing treatments.
Interestingly, Hepler didn't even become a nurse until she was 54. She joined the Davis and Elkins College RN Program after her husband died. Before that she was a homemaker, and before that she worked in a factory making plexus glass for B29 bombers for World War II.
She doesn't restrict her work to West Virginia, either. She has also volunteered as a nurse in Haiti and has traveled around the world. All of this sits well with her reason why she's still a nurse after all these years.
"If you are going to retire to something, that's different. Just don't retire and sit down," she told WBOY.
Well said, Mrs. Helper.