WATCH: A different kind of whistleblower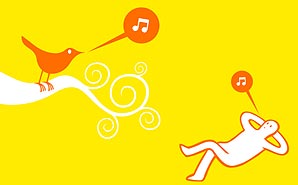 "I quit my day job as a nurse and I tried to live my dream—and actually, it was never my dream, but it sounds so good."
And so Geert Chatrou explains how he went from being a nurse in the Netherlands to performing around the world as a professional whistler.
He attributes his new career to a practical joke played on him by his sister-in-law, who, annoyed with his constant whistling at a family Christmas dinner, entered him into the International Whistlers Convention 2004. To his sister-in-law's surprise, Chatrou decided he would travel to Louisburg, NC and compete in the competition. And he won, a feat he would repeat in 2005 and 2008.
Chatrou now makes his living whistling around the world, and you can witness his remarkable talent for yourself in the following video:
What hidden talents do you keep concealed from your co-workers every day?