A fresh spin on salads for nurses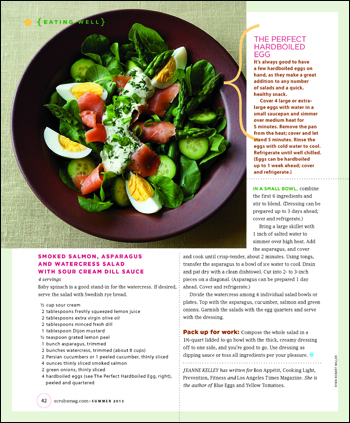 Smoked Salmon, Asparagus, and Watercress Salad with Sour Cream Dill Sauce
4 servings
Baby spinach is a good stand-in for the watercress. If desired, serve the salad with Swedish rye bread.
1/2 cup sour cream
2 tablespoons freshly squeezed lemon juice
2 tablespoons extra virgin olive oil
2 tablespoons minced fresh dill
1 tablespoon Dijon mustard
1/2 teaspoon grated lemon peel
1 bunch asparagus, trimmed
2 bunches watercress, trimmed
(about 8 cups)
2 Persian cucumbers or 1 peeled cucumber,
thinly sliced
4 ounces thinly sliced smoked salmon
2 green onions, thinly sliced
4 hardboiled eggs (see The Perfect Hardboiled Egg, below), peeled and
quartered
In a small bowl, combine the first 6 ingredients and stir to blend.
(Dressing can be prepared up to 3 days ahead; cover and refrigerate.)
Bring a large skillet with 1 inch of salted water to simmer over high heat. Add the asparagus, and cover and cook until crisp-tender, about 2 minutes. Using tongs, transfer the asparagus to a bowl of ice water to cool. Drain and pat dry with a clean dish towel. Cut into 2- to 3-inch pieces on a diagonal. (Asparagus can be prepared 1 day ahead. Cover and refrigerate.)
Divide the watercress among 4 individual salad bowls or plates. Top with the asparagus, cucumber, salmon and green onions. Garnish the salads with the egg quarters and serve with the dressing.
Pack up for work: Compose the whole salad in a 1 ½ quart lidded to-go bowl with the thick, creamy dressing off to one side, and you're good to go. Use dressing as dipping sauce or toss all ingredients per your pleasure.
The Perfect Hardboiled Egg
It's always good to have a few hardboiled eggs on hand, as they make a great addition to any number of salads and a quick, healthy snack.
4 large or extra-large eggs
Cover the eggs with water in a small saucepan and simmer over medium heat for 5 minutes. Remove the pan from the heat; cover and let stand 5 minutes. Rinse the eggs with cold water to cool. Refrigerate until well chilled. (Eggs can be hardboiled up to 1 week ahead; cover and refrigerate.)
Recipes and recipe photographs excerpted with permission from Salads for Dinner: Complete Meals for All Seasons by Jeanne Kelley. Rizzoli Publishers © 2012. www.rizzoliusa.com.
Recipes by Jeanne Kelley
Photography by Ryan Robert Miller