A life in nursing: Meet Pattie Jakel, Ooncology Clinical Nurse Specialist
In nursing, like all vocations based on serving others, the best practitioners are those who do it not for recognition or financial gain, but rather out of a sense of responsibility.
As a young girl in upstate New York, Pattie Jakel felt the calling. At the age of 15, she found herself caring for her grandmother, who was stricken with colon cancer. Years before that, around the seventh grade, Jakel took one of those career aptitude tests, which—no surprise to her—revealed that her interests pointed toward nursing. "The man [who administered the test] was condescending," she recalls now. "He told me, 'All little girls want to be nurses—you'll change your mind.'" Luckily for the countless patients and colleagues who have either been under her care or have worked with her during an emotional and challenging 27-year career, the man was wrong.
Earning her RN from Hartwick College in 1982, Jakel found work as a traveling nurse as part of a program instituted in the 1980s to combat a nationwide nursing shortage. She spent three years working in nine cities, in regions of the country as varied as the deep South, New England and the west coast. Her sojourn came to an abrupt halt when she reached Los Angeles. "I stopped because I fell in love," she recalls. She met her husband, a French architect, at Kaiser Permanente in Woodland Hills, where his business partner was hospitalized with cystic fibrosis. "[His partner] played matchmaker…he died a year before [my husband and I] were married," she remembers wistfully.
Nineteen years later, Jakel is still married to the architect and is the proud mother of two teenagers. They're a very physically active family, enjoying recreational activities such as snowboarding. Jakel recently spent eight days in New York with her daughter Mackenzie, who won several awards at a dancing competition. Her children join her in volunteer work at a no-kill animal shelter, located not far from their home in West Hills, Calif.
Nursing and family have been the focal points of Jakel's life, and she has found a way to balance words and deeds. On top of her many years on the floor in scrubs, she has been an outspoken advocate for nursing. "I have one talent in this world," she modestly proclaims, "and that is being a good public speaker." Jakel makes regular presentations at national and local conferences, teaches oncology classes for nurses in training at UCLA and volunteers for the American Cancer Society and the Leukemia and Lymphoma Association, educating parents and volunteers. She's also coauthoring a chapter for a book being written for primary care physicians on the challenges of caring for geriatric cancer patients in the home.
Jakel left nursing for a nine-year period to work on a NIH-funded research project, where she was involved in studies on cancer, Alzheimer's, memory, methamphetamine addiction and cocaine addiction. Due to spending cuts, her position was eventually eliminated. Jakel was stung by this turn of events, especially as it happened a week after receiving her 20-year pin for service. "The administrators had no idea what I was doing," she says. "It showed me I needed to be more verbal. I had to tell them that I had patients I had worked with for nine years that I needed to say good-bye to, like one woman with brain cancer."
Today, Jakel is the CNS in a 26-bed Oncology Unit at Santa Monica-UCLA Medical Center and Orthopaedic Hospital. Following her around for a day, it's obvious that she has earned both the respect and friendship of her staff, blending professionalism with a lighter, personal touch. During a typical morning shift, she jokes as she looks over statistics with Terry Taylor, the ACP who is on the verge of retirement. Roaming the halls, Jakel makes frequent stops for consultations with nurses, orderlies and resident doctors. As expected, not everything runs as smoothly as she would like. She rubs her forehead in frustration when given some bad news about a mistake almost made in a patient's medication. She knocks on the door of a patient she describes as particularly elderly and frail, to make sure he hasn't had an accident. "Falls are a huge issue," she explains. "Medicare will not cover falls, bedsores, things like that. The hospital is responsible if someone hits their head, gets a hematoma and dies." Emerging from the patient's room, she continues, "The first line of defense is the family, to remain at the bedside, but sometimes it's hard to get family members to stay here. It's like a break for them."
Jakel stops to mentor Monique Acosta, an RN, and Monica Coles, a nursing student. The conversation turns to a 19-year-old patient who recently died from gastric cancer. As they speak, a condolence card is being passed around and signed by everyone in the unit. "Ashley was an angel, and that's a word I don't often use to describe patients," says Jakel. "She was so sweet and so brave, she never once complained…."
Dr. Michael Marra, a professor of Asian Languages and Culture at UCLA, is in the advanced stages of Leukemia. In a soft voice, he describes the treatment he is receiving as "stunning, just stunning," praising the compassion he has found. "You're in the dark tunnel now, " Jakel tells him. "We're going to get you through it." She listens intently as Marra shares his views on life and death, which have been influenced by his interest in Eastern philosophies. "What is life? Life is something beautiful that you experience, and then it's gone. There's nothing strange about it."
Their conversation turns to issues of quality of life and mercy. Jakel tells him that she has worked with elderly patients who, in the advanced stages of illness, are ready to die, but whose families influence them to do everything possible to prolong their lives. "We don't let people die anymore. I struggle everyday with people well into their 80's." Marra shakes his head sadly. "It's a natural process," he says quietly.
Jakel estimates she has seen "hundreds of deaths in 27 years" on the job. "It doesn't get easier; it gets different," she says. "I have other areas where I can put my emotions now. I still cry. When Ashley died, I cried for days." She shares stories about work with her children, believing it will help make them more compassionate. At the hospital, this open expression of feeling for her patients is not lost on her young mentees, who quickly discover that in the life-and-death world of oncology, tempering one's compassion with the steely resolve to persevere is perhaps the greatest skill they can develop.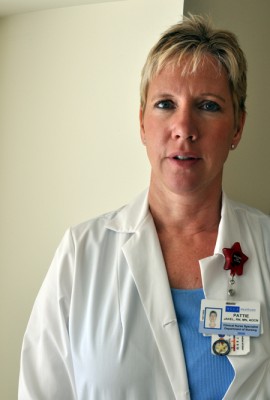 See Pattie Jakel's anything but typical day in our photo gallery.