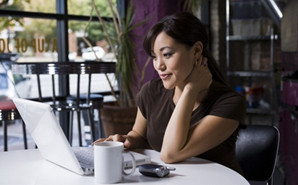 Tax time is here, and for some of you nurses, that means a refund is forthcoming (or you've already received it!!).
I know several nurses who have used their tax refund to purchase a new computer. Here are some tips to help you get the most for your money.
First of all, how do you know when it's time to buy a brand-new computer?
You may consider just breathing new life into your existing computer with some upgrades (more memory, bigger hard drive, bigger monitor, etc.). This can be a good strategy to save money and get the most out of your investment. But when you need several upgrades to get your system current, the cost approaches that of a new system. That's when you know it's time to take the plunge and purchase a new computer.
Here are three tips to get a good deal:
Research, research, research. Go online and look at different models of PCs from different manufacturers to get an idea of what's out there and the prices. Compare these to what the stores in your area are selling. You may very well get a better deal online. You'll certainly have a wider selection to choose from. At a home electronics or office supply store, you'll be limited to the brands they sell and what models they actually have on the sales floor the day you shop.
Go big. Smaller PC shops can be a bargain, but I recommend this for experienced PC buyers/users only. Local shops typically buy parts in bulk and build their own generic PCs. This is good if you know exactly what type of components you want; otherwise, it may be too difficult to pick the right stuff. You also want to have some confidence that they'll still be in business if you need service six months down the road, because when you buy a generic "OEM" (original equipment manufacturer) PC, the builder (not Microsoft or some other company) is responsible for providing you with technical support. If they go out of business, you're on your own.
Do NOT DIY. Building your own PC is not recommended unless you're a tinkerer and good with electronics. Don't get me wrong, building PCs is fun—all of mine are homemade—but it's delicate work with lots of opportunities for ruining the entire project with one little oversight. Besides, you still spend about the same amount of money building your own. The big advantage you get is control over everything your PC is made of.
When shopping at a big computer manufacturer's Website, you'll see prices listed for a base system. Once you pick one, you're presented with lots of opportunities to add stuff on. Know what's important to get and what isn't! Here's a handy guide:
A faster processor. If your last $100 is going to be spent on either this or extra memory, I say get the faster processor—because adding memory later is easy, compared to upgrading the processor. Memory slots are easy to get to on a PC; the CPU socket, not so much. I'm not saying to skimp on the memory, but if you've already got 2 GB in there, upgrade the processor. CPU speeds are listed in gigahertz—faster is better. You'll hear about multiple-core processors. They divvy up the workload among several cores within the CPU chip; this makes the PC run cooler and process tasks more efficiently.
Hard disk size. Get the biggest hard disk size you can afford. You'll need it to store things like electronic copies of nursing CEUs and papers you've written if you're attending (or going back to) nursing school. Hard drives are dirt cheap these days, and today's programs and files take up lots of space—especially if you use a digital photo or video camera. Video files can get huge especially fast.
External hard drive. While you're at it, buy an external hard drive and use it for backing up your important files and settings. Some external drives already come with software for this purpose, or you can get a good backup program like Norton Ghost. No one ever wants to take the time to do this, but trust me—if your system ever crashes and takes out your nursing license renewal application (or all the digital photos you've ever taken of your kids), you'll be glad you did! You should be able to get a 500 GB external drive for less than $100. Even if you're not getting a new PC, you should do this—it's great for headache prevention. I know.
Monitor. Again, get a bigger one if you can afford it, but also get one that has good clarity. A crisper display will be better in the long run; looking at an ever-so-slightly fuzzy monitor gets old real fast. The higher a monitor's maximum resolution is, the better. It's expressed in dots-per-inch like this: 1280×1024. The larger the monitor's size, the higher those numbers should go. These days, online continuing education includes graphic images of procedures and imaging studies. As a nurse, you'll appreciate being able to view them clearly. I recently bought a 24-inch widescreen monitor that also has a TV tuner and functions as an HDTV. I can switch between watching TV in high-def and the computer by pressing a button on the included remote control, and it only cost me about $250 online. [editor's note: I just picked up a Samsung Syncmaster 24″ LED monitor at Costco for a GREAT price and not only is the display gorgeous but it uses much less energy than a regular LCD monitor. Something to consider!]
Mouse. Upgrade to an optical one, unless you already have a favorite you'll be reusing. Optical mice use LED light beams, not balls and rollers, so dirt doesn't get tracked up into the mouse. A wireless mouse is also a nice touch. But don't spend a lot on this; you could just as easily take the free mouse that comes with the system and then shop for a really nice one at a local office supply store. They'll have a much wider selection.
Antivirus software. This is one thing you definitely DO need. In this day and age, not having it is just not an option. Most systems come with this, as well as a trial subscription to virus definition updates. Do NOT let this expire! If you do, your system's protection will be out of date within a few weeks, and you'll get a virus before you know it!
Fax modem. If you want to be able to "fax" documents from home, you could get this add-on card that installs in your PC. It should be less than $50. But if you're planning on buying an all-in-one printer/copier/scanner/fax, then skip the internal PC fax modem—you won't need it.
Bloatware. Beware of bloatware. These are trial programs and special offers loaded onto your PC. There's actually a program out now called the Decrapifier, which rids new PCs of this junk.
Other add-ons. When you order your PC, you'll have the opportunity to purchase add-on software bundles for a variety of programs; some might be useful, but most will not. Also FYI: Microsoft Works is not the same as Microsoft Office. Don't be fooled. If you can't afford Office 2007, consider trying openoffice.org; it's an Office 2007-compatible suite of software, and it's free!
Remember to keep your receipts! You'll need them if your system ever requires warranty service, and depending on your situation, you might be able to deduct the cost on your taxes as a business (or nursing school) expense. Check with your tax adviser.
One last thing: PLEASE keep all the disks and manuals that come with your system! Tuck them away someplace safe, in a big manila envelope or box so they don't get lost. If your system ever crashes, you'll need them. So will your PC geek neighbor when you ask him to help fix your ailing system. Having been that guy, I know that having those disks available is a huge time-saver (and headache preventer)!