A nurse's top tips for pinching your pennies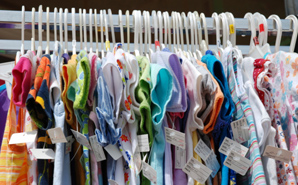 Clothes shopping
You don't have to spend a fortune to get the look you want. You just need to know how and where to get your clothes and accessories.
Buying online: If you know what brands of clothes you like and are sure of the sizes, buying online is a great alternative, not only to save money, but to save time. Shift work can do a number on your availability, so you may want to spend as little of your free time as possible shopping for clothes!
You can buy clothing on sites like eBay.com, but you can also buy directly from companies that have online catalogs. Even scrubs can be bought online at sites like A1Scrubs Online (a1scrubs.com) and Comfort Scrubs (comfortscrubs.com), which just introduced a bamboo-fabric scrubs line.
When shopping for clothes online, be careful to check for any hidden fees or excess shipping charges that may be applied. Also check the return policy, in case you have a problem with the clothing you buy.
Discount department stores: These stores can be like goldmines. They have racks of high-quality designer clothing and shoes at a fraction of the prices in the designer stores. You can't always find what you're hoping for, but if you go back consistently and keep checking, you may find exactly the right item at the right price.
Secondhand stores and consignment shops: Secondhand stores can be a lifesaver for shoppers, especially if you're shopping for children's clothes. After all, when children are young, they usually outgrow their clothes before they wear them out. Consider checking out these stores. You may be surprised at the quality you find.

Clothing swaps:Originally casual evenings with friends and acquaintances, clothing swaps have become mainstream events. Get a group of people together and ask them to bring good-quality clothing that they would like to trade. You'll end up having a pile of clothes to choose from. Keep in mind that this type of event does need several people to ensure you have enough variety of clothing in different sizes. If you don't want to do the organizing yourself, check online for groups like Clothing Swap Inc. The benefit of these groups is that they usually donate to charitable causes at the same time.
Add your own style to simple scrubs: Save a few bucks by buying solid scrubs then add appliqués, rhinestones and other personal effects to give that plain set of scrubs a unique look. A quick browse through etsy.com turns up fabulously cute and stylish designs that need only be ironed on! There are also websites that sell appliqués, such as Applique Buffet.