"It's not more than I could do, it's just more than I ever thought I could."
Although I do not know the origins of this quote, these encouraging words are what got me through four years of nursing school with osteogenesis imperfecta.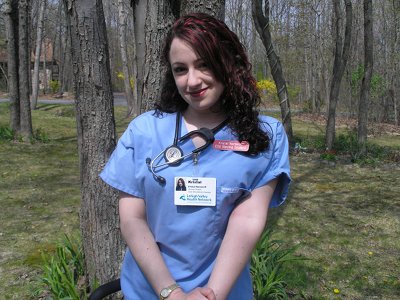 This is me, Kristal Nemeroff. I started nursing school in 2007, and to be honest, with all the discouragement I received from nurses, I never thought I would graduate. I will never forget during one of my clinical rotations when a nurse looked at me and asked, "How are they letting YOU be a nurse?" I was too shocked to know what to say.
On another occasion, in the neonatal intensive care unit, I experienced one of the most hurtful and discouraging moments of my life. Our class objectives were to hold babies, feed babies and participate in their care. When I asked the nurse I was with how I could help her, she turned to me and said, "Sorry, I don't feel comfortable." She didn't want me there, didn't want me to touch the newborns, didn't trust my competence and judged me due to my wheelchair.
There were several instances when nurses asked my clinical aide, "What can she do?" My clinical aide, who believed in my abilities, always stuck up for me. She said, "She can do everything you can do, just a little differently." I never knew about these remarks until my clinical day ended. I am open and honest about my osteogenesis imperfecta, but for some reason nurses were too afraid to ask me about it.
I had never experienced such ignorance before, but it made me want my nursing degree 10 times more. I started searching online for any information I could find about nurses with disabilities when I came across an article by Beth Marks entitled "Cultural Competence Revisited: Nursing Students with Disabilities." This article affirmed my beliefs that disabled nurses are necessary for culturally competent care and for improving quality of care.
Next: What I've learned about nurses with disabilities