A phone call with Kenny Rogers (yes, THAT Kenny Rogers)
The other nurses on the floor and I could see that one of our patients with kidney disease, Elaine, was growing increasingly depressed during her more than two-month stay. Then, one early Friday morning while en route to work, one of our social workers, Nancie Stutzman-Neese ACSW, LSCO, noticed Kenny Rogers' tour bus trucking along toward our city of South Bend. We learned that Kenny Rogers was scheduled to perform later that same night at the Morris Performing Arts Center. It just so happened that one of "The Gambler's" biggest fans was Elaine, our patient. Perfect!
When Nancie arrived at the hospital, we quickly put our heads together to figure out how to persuade the country music legend to visit Elaine and raise her spirits. All of us, from the nurses to the director of 9 South and our charge nurse Kate Wilhelm, RN, frantically made calls to the Morris Performing Arts Center, the local news and radio stations, and even to Kenny's personal assistant in Nashville, all to no avail. But we were undaunted. We headed to the Morris!
A group of us strode right up to Kenny's tour bus and promptly knocked on the door. Within a few minutes of sharing Elaine's story with a member of Kenny's staff, he agreed that Kenny would call Elaine. Less than an hour later, Kenny called her, prompting her to scream, "Kenny!" from inside her hospital room. Overwhelmed, Elaine cried as she spoke with him, and he also sent an autographed anniversary program to give to her.
This is what makes nursing rewarding: doing something special for someone as well as coming together as a group to open our hearts to our patients.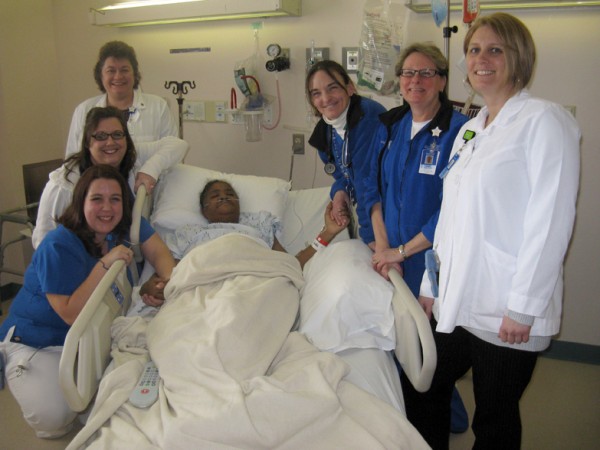 Written by Amy Hurley, RN, and Kate Wilhelm, RN, Memorial Hospital of South Bend, Ind.
Memorial Health System, Inc., established in 1984, serves as the parent company of Memorial Hospital, as well as Memorial Health Foundation, Memorial Home Care, Memorial Health & Lifestyle Center, HealthWorks! Kid's Museum, Memorial Children's Hospital and Memorial Medical Group. These organizations provide a variety of health care services to the community, ranging from inpatient care to home care, medical supplies, pharmacy services and occupational health services, as well as primary care physicians and specialists.
Image by Dan Przybyla and Dayna Bammerlin