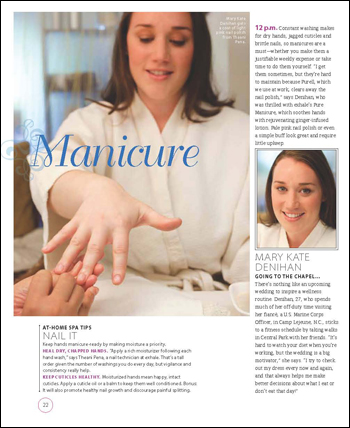 As far as Mary Beth Russo was concerned, the nurses who took care of her little girl deserved some big thanks. Maggie was just two when she was diagnosed with retinoblastoma. Following an immediate enucleation, she went through eight rounds of chemo, nine hospitalizations and a bone marrow transplant (see photos and read about her fight on page 2). When Maggie finally, in her words, "kicked cancer's butt," her mom emailed Scrubssaying she wanted to show her appreciation: Could we treat the team on M9 at Memorial Sloan-Kettering Cancer Center in New York City to some serious—and seriously deserved—R&R? We couldn't think of anything we'd rather do in the Fall 2011 issue of Scrubs!
So late last spring, three of Maggie's day nurses (Penina Abramowitz, Liz Berry and Cortney Miller) and two of her night nurses (Mary Kate Denihan and Priscilla Juarez) received the royal treatment at exhale mind body spa in midtown Manhattan (exhale also has 16 other locations across the United States). There were facials, massages, manicures and pedicures to go around, plus a private yoga class to reset buttons that were sorely in need of some rejuvenation.
When all was said and done, though, what really lit up the nurses' eyes was talking about Maggie and Mary Beth. "She is an unbelievable child," said Berry. Added Abramowitz, "Mary Beth was the kind of mom who inspired me to work harder, because at every step, she was always positive and made that day the best possible day it could be."
The spa day was a resounding success as all the nurses left relaxed—and, yes, almost ready to start another shift. Since we know that all nurses deserve huge pats (or massages!) on the back, we documented the details and collected tips from the experts at exhale so you could recharge your own batteries at home.