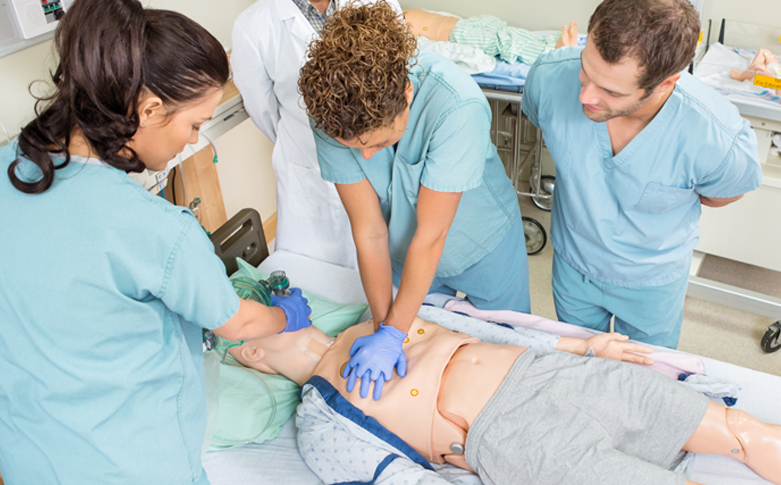 Shutterstock | Tyler Olson
Preparing to respond to those moments you can never really prepare for may sound a bit odd, but it can mean the difference between life and death in a true time of emergency.
That's why nurses don't take ACLS lightly—and the know-how doesn't exactly come naturally. Yes—just like everything else in nursing, learning the ropes can be a source of frustration and anxiety.
Below, Kati Kleber (aka Nurse EyeRoll) dishes on what you can expect and the information you should study in order to begin "Day 1" already ahead of the pack.

I recently had someone submit a question on Tumblr about ACLS prep. I accidentally responded and the question disappeared. So sorry [to the] nurse [who] asked that question! I would have liked to copy and paste it here, but alas, it is gone.
I have taken ACLS a few times and performed it multiple times. The class kinda sucks and the reading is a little rough to get through. The first time I took the test, I was with doctors and nurses. They gave us a lot of complicated information in a short amount of time. We took the test and I felt like I was back in nursing school. I thought I understood the material, but NOPE. It was so complicated, even some doctors didn't pass. And I worked with those doctors in codes, and they were fabulous!
The second time, it was much more concise and to the point. They updated it and cut out a lot of unnecessary stuff, and it was much more straightforward.
A big change is they're really emphasizing staying on the chest for CPR, even when your defibrillator is charging. They changed BLS to where you do compression before breaths, so staying on the chest with good CPR is something they ask about. Unless you're feeling for a pulse or your AED is analyzing a rhythm, you should be cracking ribs.
If you know epinephrine, amiodarone, adenosine, atropine and vasopressin doses, you'll be good. And you really should know those anyway. Know which rhythms are shockable. Sooo basically if you can shock, shock. If you can't, give them epi. If it's SYMPTOMATIC bradycardia, atropine.
Know ROSS, when to do hypothermia, when to consider calling the code and when to be concerned about AFib. I think I remember reading a post about that somewhere. Hmm….
The reading is pretty boring if you haven't physically seen it in action. So if you know you're going to be taking it soon and you hear a code called overhead, see if your charge nurse will let you go and watch. Watching a well-organized ACLS code will really help you remember things for the class.
I really like this website for ACLS stuff. It's straightforward and to the point.
Good luck!
To read more, visit NurseEyeRoll.com.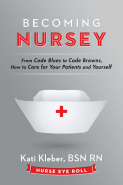 Learning how to be a great nurse at the bedside while maintaining your sanity at home is no easy task. Becoming Nursey: From Code Blues to Code Browns, How to Take Care of Your Patients and Yourself talks about how to realistically live as a nurse, both at home and at the bedside…with a little humor and some shenanigans along the way. Get ready: It's about to get real, real nursey. You can get your own copy at NurseEyeRoll.com, Amazon or Goodreads (ebook).