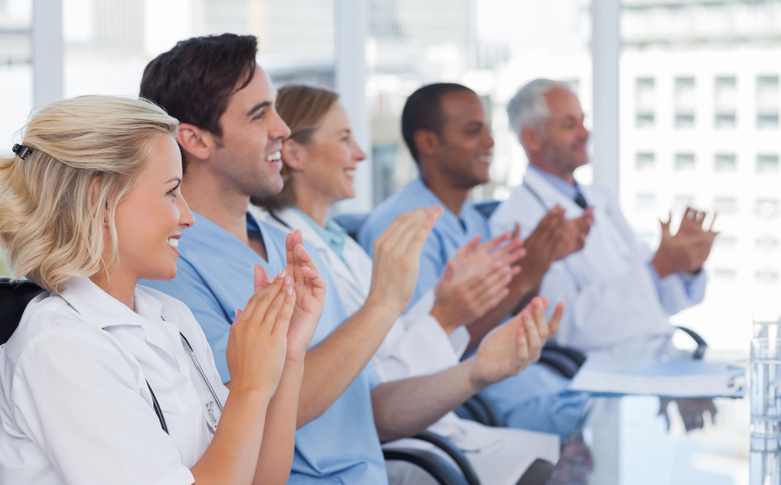 Thinkstock | Wavebreakmedia Ltd
Happy Nurses Week, nurses!
We know your jobs are hard ones. You get all of the kicks and none of the kisses, and you're responsible for maintaining the smooth operation of hospitals in the face of an agitated mob of nurses and doctors, many of whom can't remember the last time their feet didn't hurt.
Nurses Week is one of the few times throughout the year that you can show us all how much you depend on us. And I have a few ideas for making this Nurses Week not only memorable, but meaningful…
I don't need another lanyard, ID holder or tote bag with the hospital's name on it. Instead, consider handing out pens. You can get 'em cheap in bulk, and those gel ones are great to chart with. If you're really wanting to put your imprint on something, why not those little foldable umbrellas? We could keep 'em in our lockers for when it starts to rain 10 minutes before we get off work. Itty-bitty flashlights are more useful than you can imagine and actually fit on a keychain.
Nor do I need, Heaven knows, another freaking donut or cinnamon roll. You guys insist on passing out food every year during The Week, and it's always sugary stuff and sodas. This year, could we have a plate of healthy sandwiches or a couple of cheap pizzas? How 'bout some of those breakfast burritos the cafeteria makes, delivered with decent coffee some morning? That sort of little touch would be especially welcome late at night and on weekends, when, at many hospitals, nothing's open but the vending machines.
Finally, I would like to hear more than once a decade that I'm doing a good job. Telling me that I've done well in the face of whatever odds costs nothing, and it's something I don't hear all that often. If you can't think of something I've knocked out of the ballpark lately, at least compliment my sense of humor or my intelligence.
Yeah, all of these suggestions will take a little more time and thought than I've seen you put into Nurses Week for the last few years. It will be worth it, I promise—there will be one year when your nurses won't snort, roll their eyes and toss your lanyard in the trash. Please consider treating your yearly thank-you as more than an afterthought.