Neuro-Intensive Care Nurse Teri Voss has never been so busy. At night, she works a 12-hour shift at her local hospital in her hometown of Rockford, Ill. By day, she's a volunteer school nurse, a mentor of soon-to-be nurse graduates and a dedicated wife and mother.
Recently Voss became even busier: She is the recipient of the Dickies American Worker of the Year award. Scrubs jumped at the chance to offer Voss a makeover to kick off the celebration of her well-deserved recognition.
Voss's story
When Voss got the call that she had been nominated for the Dickies American Worker of the Year award, she was in disbelief at first. "I kind of thought it was a joke," says Voss. Her son, Jonathan, then admitted to writing a nomination letter back in May. "He did it as a Mother's Day gift," Voss adds.
Jonathan explained in a heartfelt letter why his mother exemplifies the American worker. He described a mother who had taken night-shift work early in her career to juggle professional obligations and family. Voss was ever present in her son's life, whether it be as room mother or going along on field trips. He wrote: "She worked when I was sleeping. She did it with such grace that I did not realize she was gone."
For Voss, being a nurse is the fulfillment of a childhood dream. She admits she loves her job as a neuro-intensive care nurse and is hooked on what she calls "trauma drama." "I put my whole effort into my job. It's a very big part of me," says Voss. "Seeing people who at one time had something taken away from them slowly get that back—that's all the thanks in the world that you need."
Growing a nurse
When Voss isn't at the hospital these days, she volunteers as a school nurse conducting hearing and vision exams, takes blood pressure readings after the Sunday service at her parish and educates young mothers on fixed incomes about ways to save money and provide for their families. She also helps young nursing students by tutoring them and only asks for an invitation to their graduation to celebrate what she refers to as "growing a nurse." At work, the younger nurses refer to her as "Mama Voss."
As the grand prize winner of the 2010 Dickies American Worker of the Year award, Voss will receive $100,000 for her tireless devotion to her work, community and family. "Theresa Voss exemplifies selflessness in every aspect of her life," said Tad Uchtman, Senior Vice President of Marketing and Merchandising for Dickies. "Her dedication and love for nursing are to be commended, particularly given the physical, mental and emotional fortitude required of such a demanding and often overlooked job."
Voss, who is a firm believer in the adage "See one, do one, teach one," has certainly impressed her son with her determination, drive, compassion and commitment; not only did Jonathan nominate her for the American Worker of the Year award, but he is currently studying nursing.
Beauty tips
Here are 3 tips to achieve Voss's natural, clean look with products that fit snuggly in your purse and your budget.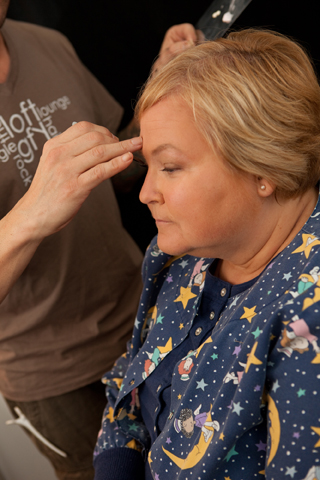 Flawless face: Makeup artist Christian Bier used a blend of L'Oréal True Match in neutral 5 and moisturizer to achieve a flawless base. "True Match works just as well as any high-end makeup line. It's one of my favorites."
Pretty eyes and brows: Voss's brows were cleaned up and defined just a touch with a brow pencil. Bier subtly brought out Voss's eyes by using liquid eyeliner on the top lash line, then gently smudging it. Eyelash extensions completed the look.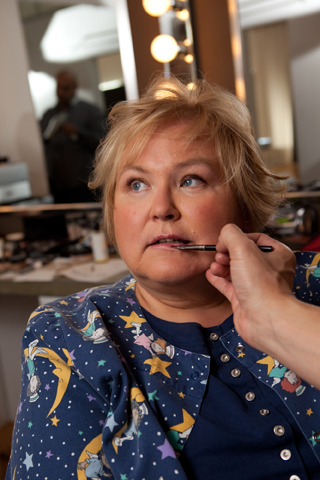 Soft, feminine lips: Bier added a touch of color and shine to Voss's lips with L'Oréal Jelly Pod lip gloss in Succulent.
Get Voss's look for a steal with these products recommended by stylist Christian Bier:
L'Oréal True Match Super Blendable Makeup
Maybelline New York Great Lash Mascara
Sonia Kashuk Eyeshadow Quad
L'Oréal HiP Jelly Balm
L'Oréal Elnett Satin Hairspray