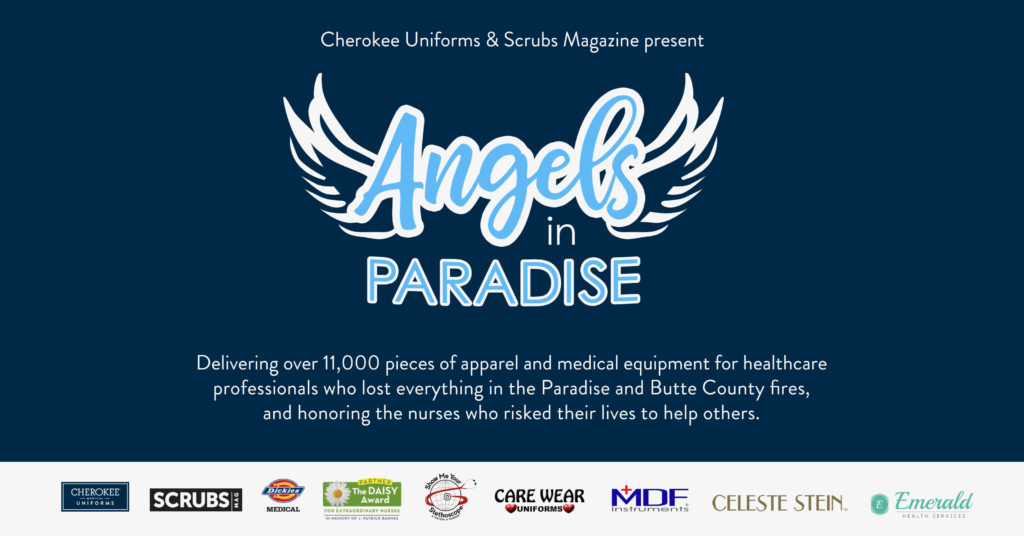 Scrubs Magazine and Cherokee Uniforms honor nurses with The Angels in Paradise Project.
About The Angels In Paradise Project:
Cherokee Uniforms and Scrubs Magazine have partnered together to create The Angels in Paradise Project, where they will deliver more than 11,000 items of apparel and medical equipment for healthcare professionals who lost everything in the Paradise and Butte County fires.
To aid the effort, Cherokee Uniforms and Scrubs Magazine banded together a host of leading brands in healthcare to support the Project.
Dickies Medical Uniforms, Show Me Your Stethoscope, MDF Instruments, Anywears, Emerald Health Services, Care Wear Uniforms and the DAISY Foundation have all pledged meaningful support. These thoughtful organizations have aligned to give back to the healthcare community striving to assist those who do so much to take care of others. They have banded together to create the Angels in Paradise Project in an effort to care for more than 1,000 healthcare professionals in the area, many of whom have lost their homes, jobs and narrowly escaped with their lives.
For three days, Angels in Paradise will be touring the area, distributing more than 11,000 pieces of medical apparel, shoes, socks and stethoscopes to honor the nurses who risked their lives during the fires, encouraging them to share their powerful stories of heroism and dedication.
"Our healthcare professionals are the backbone of our society, deeply caring for the nation and saving lives every single day. It is our distinct honor to be able to assist and recognize them during this important time" said Deborah Singer, Director of Media Brands for Cherokee Uniforms. "It was important to bring these organizations together to take care of nurses and healthcare providers."
On December 5th, a luncheon will be held by Adventist Health to honor forty-six nurses for their heroism in evacuating Feather River Hospital on the night the fire started in Paradise and Butte County. The event is being held at 1075 Creekside Ridge Drive, Roseville, CA where they will be presented with the DAISY Award from the DAISY Foundation.
The evening of December 5th, Show Me Your Stethoscope and Emerald Health Services will be sponsoring a Holiday gathering for nearly 100 Feather River nurses and their families. The event will bring together this amazing community of nurses to lift spirits and bring hope after this time of tragedy. Many of these nurses are now without homes or jobs and have shared harrowing stories of nearly losing their lives while caring for patients. The event will be held from 5-8pm at Cornerstone Acres, located at 4327 Munjar Road, Chico, CA 95973.
On December 6th from 11am-4pm and on December 7th from 10am-4pm, Cherokee Uniforms and local retail partner Care Wear Uniforms will be handing out more than 11,000 medical apparel items, including 8,000 Scrubs, 2,000 pairs of shoes and socks from Cherokee Uniforms and Dickies Medical Uniforms and 1,000 Stethoscopes from MDF Instruments. The distribution will be located at the Alpha Strong Gym, located at 977 East Avenue, Suite 10 Chico, CA 95926. Scrubs Magazine be on hand to gather and document the stories of these incredible healthcare providers.
About
The DAISY Foundation (Disease Attacking the Immune System), was formed in November, 1999, by the family of J. Patrick Barnes who died at age 33 of complications of Idiopathic Thrombocytopenic Purpura (ITP). The DAISY Award was created to honor Nurses who have been nominated for their exemplary showcase of compassion in Nursing. To date, over 1.3 million DAISY pins of excellence have been given, totaling over 25% of the Nursing workforce in America.
Cherokee Uniforms, the leader in medical apparel and a 19 year partner of the DAISY Foundation, offers annual scholarships to DAISY Nurses who wish to pursue further education in the healthcare field.
Dickies Medical Apparel is one of the nation's oldest and toughest workwear brands, and that stands the test of time with their support for our Angels in Paradise project.
Scrubs Magazine is one of the largest healthcare magazines reaching over 5 million professionals and Nurses across America.
Show Me Your Stethoscope (SMYS) is the largest community of nurses in the world with over 650,000 members. Created as a Facebook Group as a result of a nurse's mistreatment on national television, SMYS united nurses across the country and the world, and has evolved into an organization focused on unifying and empowering a nation of nurses. Their initiatives include disaster response, medical mission trips, championing nurse innovation, and providing scholarships and mentoring to young nurses. Their mission is "Nurses Take Care of Patients, We take care of Nurses".
For enquiries, please contact:
Deborah Singer | Director of Media Brands, Cherokee Uniforms
Strategic Partners, Inc. | 9800 De Soto Avenue
Chatsworth, CA 91311 | (818) 530-6826
Sponsored by Cherokee Uniforms