Apps for nurses: Are you using RNotes?

Chances are, you're already living with a smartphone, tablet or similar device. You've likely got apps you know and love, but we want to help you grow your collection to include all of the super helpful applications for nurses. We know your time is precious and that you're tasked with keeping a lot of information in your head at all times–our hope is to shed some light on some apps that can help you along the way.
What nurses love about RNotes:
"This is so great. I am a first year (well, now second year) nursing student and kept this in my pocket at all times during my clinical rotations. It is packed with info and has just about everything you need. You can write on it to and then wipe it clean so you can customize it to the hospital you are in and your pt/pts for the day." — Beth Lewis, skyscape.com
Created in 2011 but updated just this month is Unbound Medicine's RNotes. The app, which is $29.99, is the third edition of the Nurse's Clinical Pocket Guide. The app is a quick-reference guide that "puts the latest clinically-focused nursing information at your fingertips, helping you improve patient care." You can find answers to common nursing questions through content that is organized by topic, section, and specialty/area. This recent edition also helps you prepare for the NCLEX by noting topics throughout the app that are covered on the exam. The app also features full-color images and charts.
RNotes features for all iOS devices:
• Convenient tables and charts
• Full-color images
• English/Spanish translations
• Noted NCLEX topics
• Basics for 12-lead ECG interpretation
• Critical lab values
• Optimized interface
• Personalized favorites
• Superior navigation
• Universal Index Search – find topics across all indexes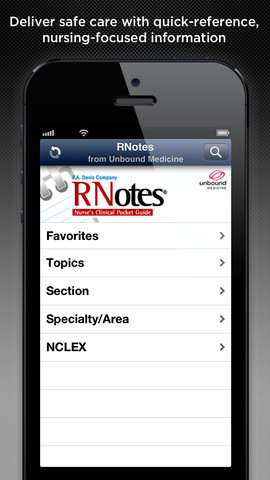 What do you think? Would you use an app like this? We'd love to hear what applications you're currently using and loving. Please drop us a line in the comments and let us know a few of your favorites!