Apps for nurses: Davis's Drug Guide
Over on our Facebook page, we've got a conversation brewing about the best nursing related phone apps. One of the nominees for best app is Davis's Drug Guide. The app, according to its website, "includes drug monographs for thousands of medications from the new 13th edition, regularly revised to keep you up to date. Quickly answer questions about dosing, administration and patient safety."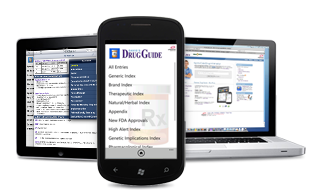 What nurses love about it:
"Very quick to open and gets to the med fast. Definately prefered over flipping pages in a book!" – RN student LG Ally on Google Play reviews
"I have used Davis's Drug Guide since 2009 and absolutely love it. I have it on my iPhone and iPad; it's so easy to use. It's the only online drug book I've used, so I can't compare it to other programs, but I do love this one." – veamcher, iTunes reviews
"As a junior nursing student I have found this app a valuable tool. Makes doing clinical paperwork much easier. The assessment findings are not in apps like medscape, but are very detailed here." – Google user on Google Play reviews
Watch a video showcasing how it works:
Learn more about the app:
DDG keeps nurses up-to-date with current, useful information about 5,000 drugs, both trade names and generics. It covers all your bases as a point-of-care resources: Dosing, administration, safe usage, how drugs interact and what to tell patients about it. To ensure that your patients get the best care possible, DDG offers FDA alerts, bookmarks for your go-to information, and extensive cross-linking between drugs.
Final notes:
Download Davis's Drug Guide to your smartphone 

and

 tablet
Consult 1,100 updated monographs with 5,000+ trade name and generic drugs
Receive regular updates for 1 year
Access via the web at drugguide.com for 1 year
What do you think? Would you use an app like this? We'd love to hear what applications you're currently using and loving. Please drop us a line in the comments and let us know a few of your favorites!