Over on our Facebook page, we've got a conversation brewing about the best nursing related phone apps. One of the nominees for best app is iTriage, which, according to its website, "Empowers consumers with control and convenience to effectively manage their personal healthcare and improve healthcare delivery for providers and payers." Though it's targeted towards patients, nurses are swearing by it as well.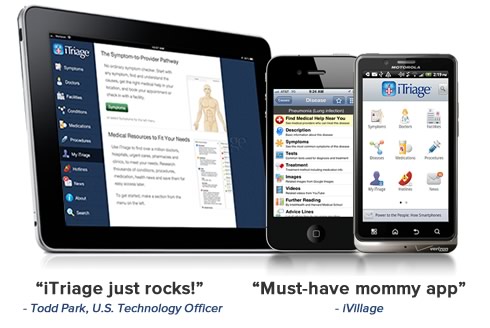 What nurses love about it:
"Awesome I love this app!! I'm an RN and I use this fairly often to double check things for my pts. Great job with this!" -Elaine
"Man I use it at work every day, for drugs and procedures!! I love it!!"- Sheila
"Amazing!!! Best app ever, as a nurse this is a great app to brush up on medications and procedures." – Ron
"Speaking as a nurse, this is an amazing app. Clear, concise, accurate, easy to use. Should be in everyone's device of choice. Thank you for developing it, and especially for making it available at no cost." – Stitchcat
Read more (plus watch a video of a nurse discussing the app) right here on the official website.
Watch the video showcasing how it works:
Learn more about the app:
Empowers users to research, act and care for patients better
Enter your symptoms to explore possible causes and to find helpful treatment information
Look up information from physicians and reviewed by the Harvard Medical School about specific conditions as well as treatment options, procedures, cost and complications
Information available about medications, dosage, side effects and safety precautions
Determine which facility to go to for treatment: urgent care, ER, clinic, etc.
Explore the facilities near you, see physician lists and hospital wait times, and find them on a map
Make appointments, get directions or check-in for appointments
Store your information in MyiTriage and review it on-the-go
Final notes:
One of the top 5 healthcare apps downloaded by Apple and Android users
Average rating of 4.5 out of 5 stars
Available for free download
Created by two emergency medical doctors
What do you think? Would you use an app like this? We'd love to hear what applications you're currently using and loving. Please drop us a line in the comments and let us know a few of your favorites!