Over on our Facebook page, we've got a
conversation brewing
about the best nursing related phone apps. One of the nominees for best app is
Medscape
, a company that, according to its website, "provides the most comprehensive set of tools to support clinicians with all of their professional needs, including decision-making support at the point-of-care, medical news and perspectives from thought leaders across medicine, engaging CME courses to support professional development, and much more."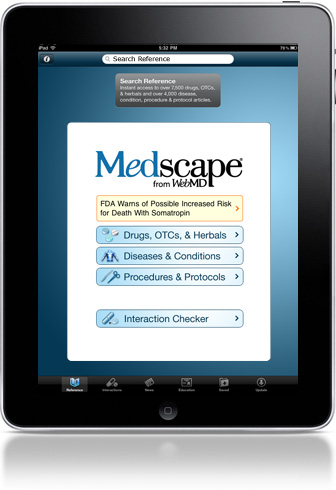 What nurses love about it:
"This is an amazing app chock-full of useful information. I just finished medical school and this free app was my main source of studying on the go or using it during rounds. I got highest honors! I'm serious. Great job to the Medscape developers and authors." – Arth Sant, Google play reviews
"No need of any other medical apps. This contains all info. Brilliant work." – Madhushanka Ekanayake, Google play reviews
"Love it! And it's free! Use it at work all the time. Good to look up meds, interactions, uses, other names, etc. And there's so many features." – Kelly Sermeno, Google play reviews
Learn more about the app:
Clinical reference: 7,700 physicians and pharmacists contribute to and edit the content in this section. Then, the app's editorial review process ensures that the content is current, evidence-based material written in a way that supports medical professionals.
Here, you have access to the drug reference, drug interaction checker, medical calculators, formulary information, disease and condition reference, procedure reference and MEDLINE.
Medical news: With articles written by experts spanning 30+ specialities, you're certain to find information pertinent to your field here!
Continuing medical education: Faculty from major academic institutions, physician experts and scientific directors partnered to create courses that can be completed both for professional development and to fulfill licensure requirements. Impressive!
Final notes:
Available for free for iPhone, Android, iPad, iPad mini and Kindle Fire devices.
No internet connection needed to access drug information, interaction checker, medical calculators, disease and condition reference, and procedure reference when you download the critical reference database.
460,000+ physicians, pharmacies, and hospitals are available at your fingertips through the searchable database.
Capability to both save articles and share with friends on Facebook and colleagues via email.
What do you think? Would you use an app like this? Are you already a fan? We'd love to hear what applications you're currently using and loving. Please drop us a line in the comments and let us know a few of your favorites!