Over on our Facebook page, we've got a conversation brewing about the best nursing related phone apps. One of the nominees for best app is Nursing Central, which, according to its website, "helps nurses and students find detailed information on diseases, tests, drugs, and procedures. The moment a question arises you can consult the automatically updating database of 5,000 drugs, find a definition in the dictionary with more than 60,000 entries, interpret hundreds of lab and diagnostic tests, and consult the latest disease information."

Watch a video about the app here:
What nurses love about it:
"Great tool when in clinicals and I need to look up a drug or medical term I'm not familiar with." – Maria Marquez, Google reviews
"Very convenient to use, and works well." – Ying Huang, Google reviews
"Having this app has replaced the need for me to carry my Drug guide, Lab Values, medical dictionary, and MedSurg book with me. I especially love being able to search through all modules at once!" – Angela Rolf, Google reviews
Learn more about the app:
Nursing Central is a compilation of five different apps:
Davis's Drug Guide: Find information about dosage, contraindications, drug interactions and educating patients for more than 5,000 medications here!
Taber's Medical Dictionary: Using Glimpse technology, you can define more than 60,000 terms.
Davis's Laboratory and Diagnostic Tests: Information about more than 400 tests in terms of rationale and results, as well as how to care for your patient before and after the test.
Diseases and Disorders: More than 250 medical conditions represented here, with detailed information on each.
MEDLINE Journals: Find the sources and abstracts for tons of the trusted medical journals.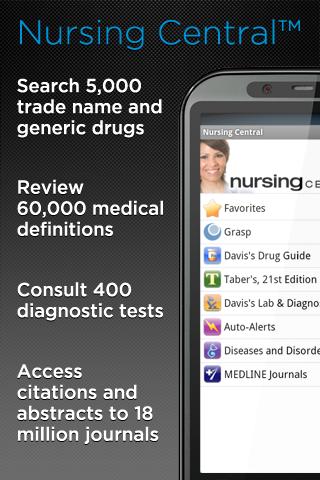 Final notes:
Works best on Android devices
Universal Index Search
Navigate easily between resources with cross links
Make your own "favorites" list!
Updates and new editions frequently
Web and mobile web access
Grasp study system to reinforce key concepts
Pictures, illustrations, videos, tables and dictionary pronunciations
Auto Alerts sent straight to your mobile device
Practical guidelines for nursing diagnosis and patient care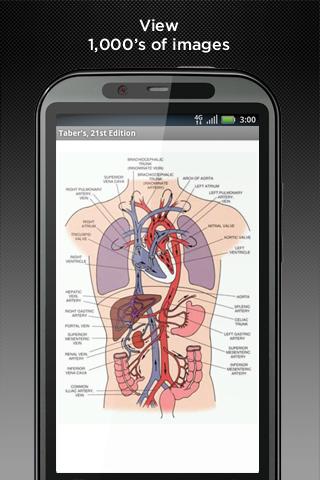 What do you think? Would you use an app like this? Are you already a fan? We'd love to hear what applications you're currently using and loving. Please drop us a line in the comments and let us know a few of your favorites!