Over on our Facebook page, we've got a conversation brewing about the best nursing related phone apps. One of the nominees for best app is Skyscape, a free medical resource that is an "invaluable clinical decision-support tool that helps you find the right answers, right away." The main app is free and is a gateway to several different tools (outlined below), along with options to buy other integrated premium apps and books. It's used by 2.4 million healthcare providers!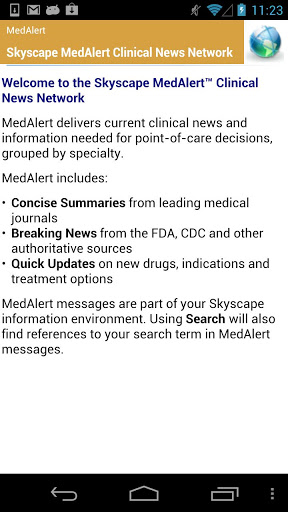 What nurses love about it:
"Wonderful app for me at work as an RN. I can find all the latest and oldest medications and learn how to administer them safely and professionally." – Michael, Skyscape testimonials
"As a nursing student, the rxDrug app is awesome. Thanks." – Cheryl, Google Play reviews
Learn more about the app:
Final notes:
Available on multiple mobile platforms, including: iOS (iPhone, iPod Touch), Android and Blackberry.
Multiple modes of customer support are available at all times to help you out!
Features include SmartLink, Skyscape's proprietary cross-reference functionality; medical calculators; algorithms; interactive images; flowcharts; and frequent content updates.
What do you think? Would you use an app like this? Are you already a fan? We'd love to hear what applications you're currently using and loving. Please drop us a line in the comments and let us know a few of your favorites!