Apps for nurses: Talking Translator
Over on our Facebook page, we've got a conversation brewing about the best nursing related phone apps. One of the nominees for best app is Talking Translator. The app, according to its website, is pretty simple: "Speak a sentence and hear the translation!"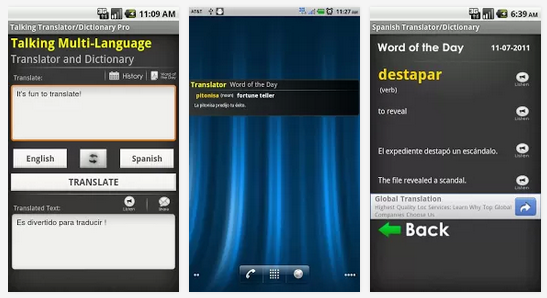 What nurses love about it:
"I use to communicate with patients when needed and it really helps break that barrier. It recognizes many basic medical terms, to which I was surprised." – Holly Hawkins, Google Play reviews
"I've been using this product ever since I got an Android, since I meet people from everywhere. I've had to translate English to French, English to Spanish, English to Chinese, and I use it to help make my Japanese better. The UI improvements and automatic playback are extremely convenient. This app just keeps getting better. Development should never stop." – Teddy Kirkpatrick, Google play reviews
"Fast, easy, extremely helpful. No more hand signals. I highly recommend this super useful tool, especially if you can use it at work or you're traveling or plan to travel overseas." – Marcos Ortega, Google play reviews
Watch a video showcasing how it works:
Specs:
Supports many languages–Italian, French, German, Chinese, Japanese and more.
– Includes dictionary
– Word of the day (also in widgets and daily notifications)
– Sentence correction
– Transcription / transliteration for many languages
What do you think? Would you use an app like this? We'd love to hear what applications you're currently using and loving. Please drop us a line in the comments and let us know a few of your favorites!