J. Paradisi paintings
Vessels of Containment Series, 2011

These images are inspired by a combination of Catalina Island pottery (made on Catalina Island from 1927 – 1937) and the artist's doll collection.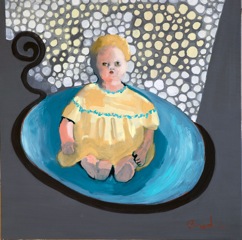 Baby Doll in Conical Bowl
24″ x 24″ oil/canvas 2011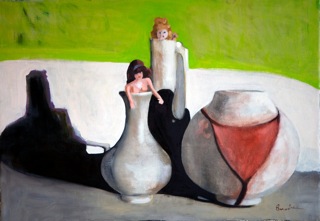 Three Vases, Two Dollies, and a Thong
24″ x 34″ oil/canvas 2011
Angle of Repose (The Elmo Chair)
24″ x 24″ oil/canvas 2011
Manchu Yellow and Catalina Blue Vases (Pulcinella)
24″ x 30″ oil/canvas 2011
Baby Doll in Monterey Brown Floral Vase
30″ x 24″ oil/canvas 2011
Image credit: David E. Forinash
J. Paradisi RN, OCN, finds inspiration where science, humanity and art converge, creating compelling images. She is a visual artist and a writer. She studied art at Pacific Northwest College of Art. A nurse for twenty-four years, she has worked in Pediatric Intensive Care and Neonatal Intensive Care  in Level I Trauma centers and level III Neonatal units in California and Oregon.  She currently works in Adult Oncology. To learn more about J. Paradisi and to purchase her art, visit jparadisirn.com.