About Rabbi Sheryl Lewart
Sheryl Lewart was a beloved spiritual teacher who lectured and led workshops and seminars in mystical Judaism (Kabbalah, Hasidism and Mussar). She served for 12 years as rabbi of Kehillat Israel—the largest Reconstructionist congregation in the world—in Los Angeles, and gave seminars regularly on values-based decision-making. Before passing away of cancer in late 2012, Sheryl offered spiritual direction and guidance in order to help others understand that by developing our own spirituality, we discover a deeper intimacy with God and a genuine compassion for all of creation. God, it has been suggested, is the wind that blows our ship, but it is up to us to turn the rudder and shift the sails in order to more fully catch the wind that freely blows.
Drink a few sips of cool water as you drink in composure. Invite deep, calming breaths to flow through your body. Then say this prayer.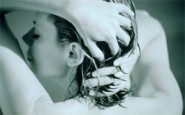 You're preparing for your day or you're washing off the stress of your day. Either way, this will help calm your spirits.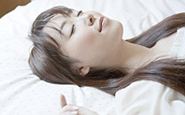 A breathing prayer in which all you need is your bed and a candle alongside it.